Madigan made... a glass gem bib necklace!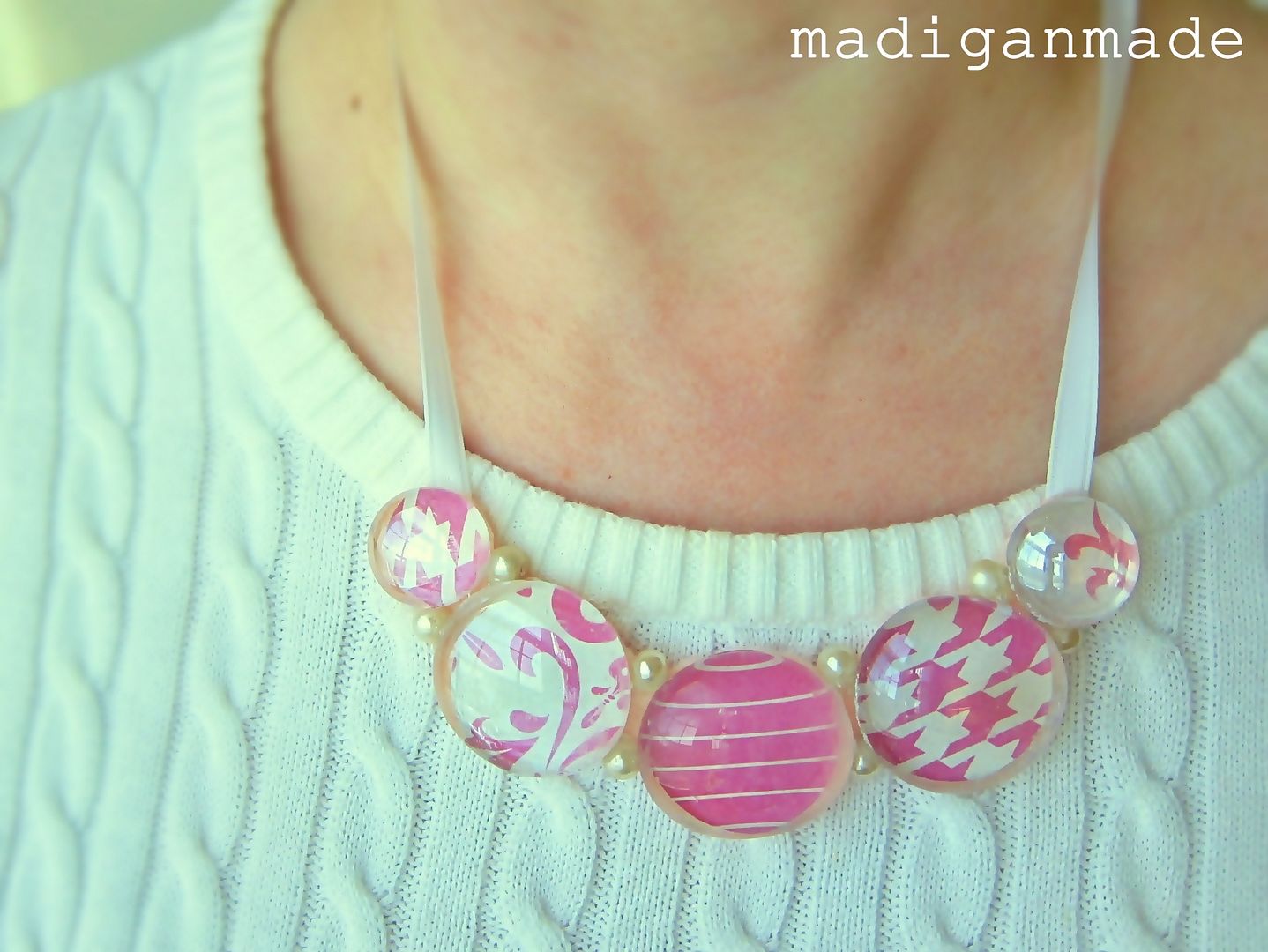 I'm on a stashbusting mission with flat glass marble gems!
I still have tons of these guys leftover... and I wanted to use them for something else.
The marble magnets were so pretty and sparkly... I thought they might be cute on jewelry.
So, I give you my version of a bib necklace, Madigan Made style.
I vowed not to buy anything new for this project, but did end up needing to go out and get stiffened felt to help stabilize the necklace shape. Otherwise, I had all the project materials on hand.


Just follow my steps below. The construction of this necklace is very similar to all the cool bib/rosette necklaces circulating around blogland. There are tons of examples out there. But I turned to
Little Miss Momma
,
Mandipidy
and
Flamingo Toes
for ideas.
One tiny note
:
I originally planned to make this necklace a little bigger. BUT half way into this project I cut the size down for several reasons:
1. The shape was heavy and floppy
2. With so many marbles, they did not nestle close together and you could see a lot of the felt between the gaps.
3. Let's face it, I'm a simple girl and a
huge
bib necklace is just not "me". A single row of these gems is about all I can pull off.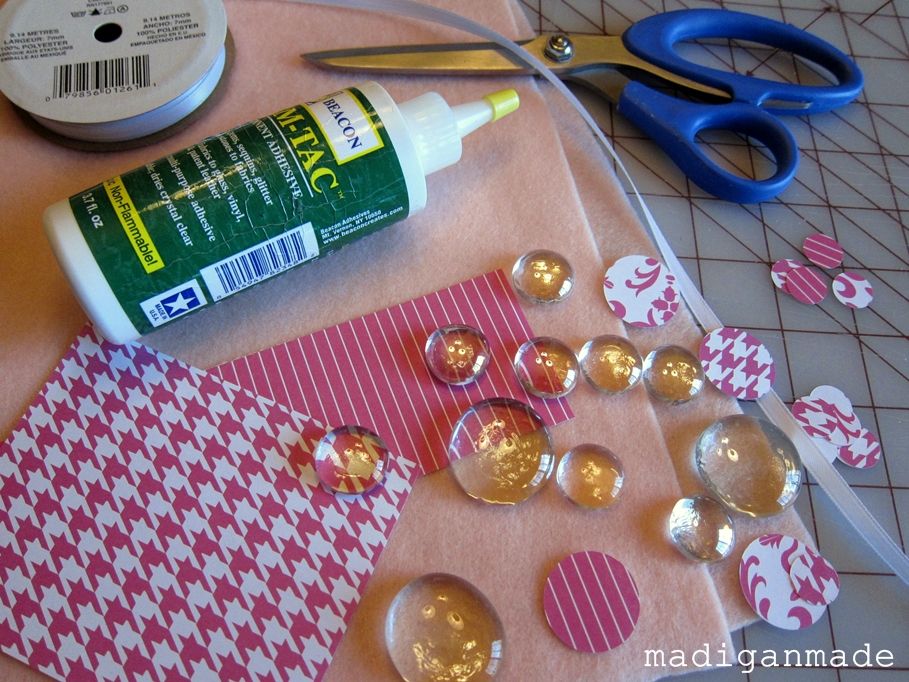 Flat glass gem marbles
Fun coordinating paper
Jewelry glue (like GemTac)
Felt
Stiffened felt
Ribbon
Small to medium sized beads
Scissors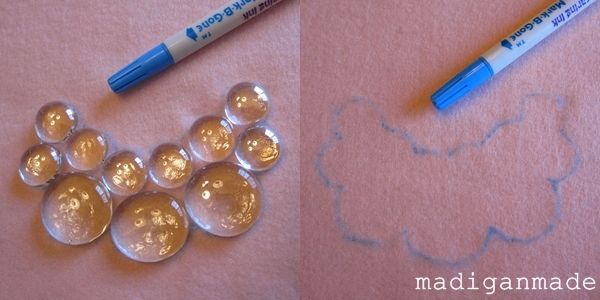 Create a pleasing design with your marbles on top of the regular felt. Keep the gems as tight as you can to each other. Trace around the shape and cut it out.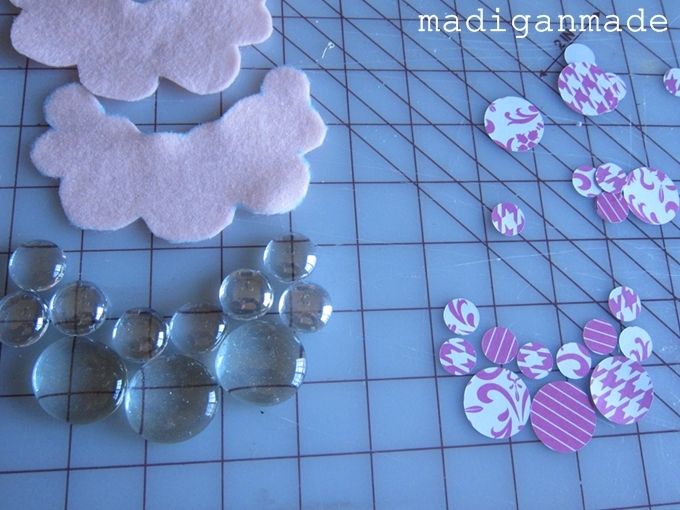 Cut out circles of paper that will fit behind each marble. You could use a paper punch, crafty cutting machine or cut out by hand. Arrange and plan which color/pattern circle will go where.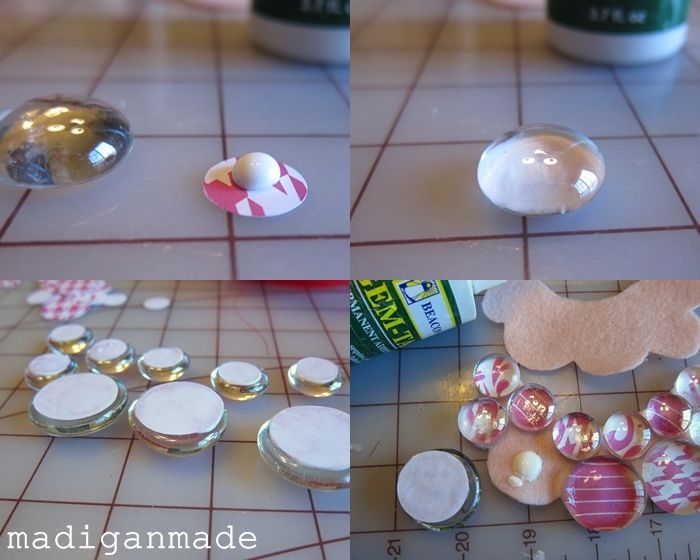 Put a drop of jewelry glue on each paper circle and press the glass marble down onto it. Allow the glue to dry with the gem flipped upside down. (I like jewelry glue because it is easy to work with and dries crystal clear.) Once fully dry, use more glue to adhere each gem in the designated spot on felt.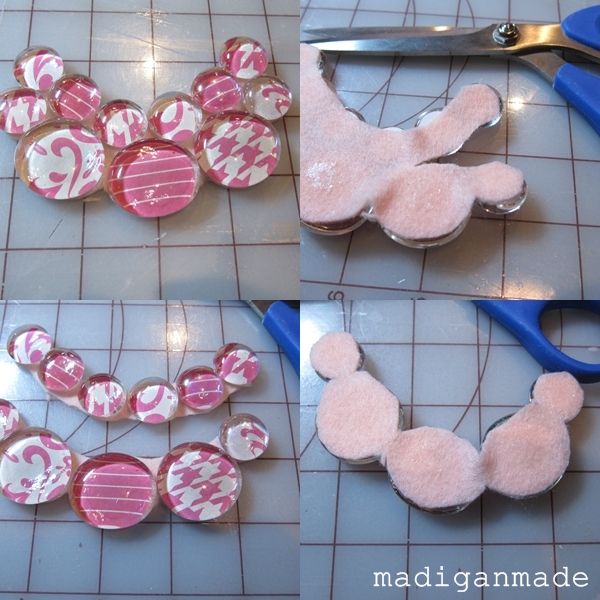 Note: This step is completely unnecessary... if you plan ahead. Of course, I did not! As noted above, I was not crazy about the size of all these gems together and I decided to trim it down to one string of marbles. Once I did that, I took scissors and trimmed the felt around the back as close as I could to each gem.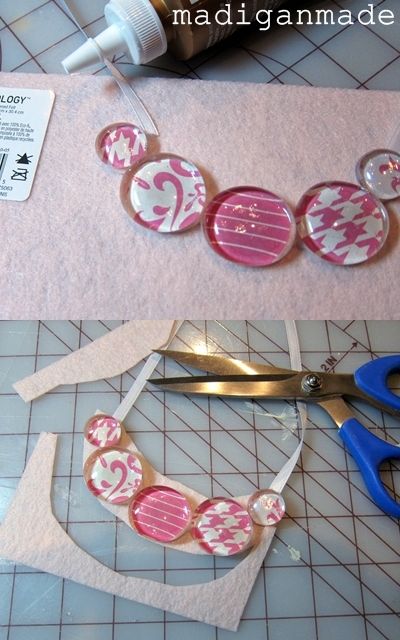 This necklace is heavy and needs stiffened felt to help stabilize the glass gems. Glue the regular felt (with the gems attached) down to a sheet of stiffened felt. Also, cut two lengths of ribbon and sandwich the ribbon between each piece of felt on the end. Once completely dry, carefully trim the marbles out of the felt.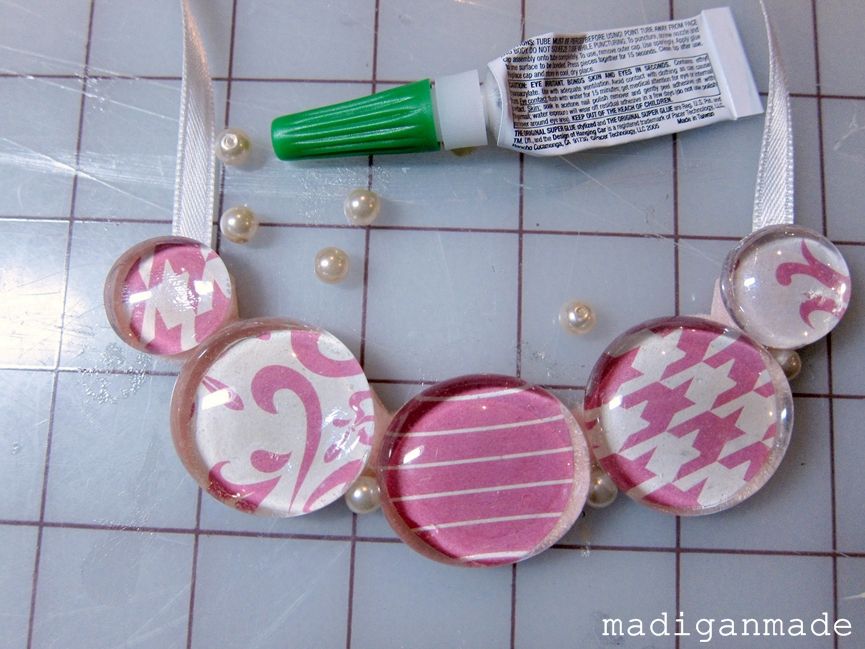 Despite careful trimming efforts, you might still see a little bit of the felt in between each glass gem. So, grab some beads and glue them in each open gap. (I used super glue here so it would dry quickly... but it left a cloudy residue in some spots. A fast drying glue designed for jewelry would probably be recommended for this step to ensure it dries clear.)
Once you try it on, trim the ribbon down to the necessary length.
I love it! This color and bold print combo is so much fun.
(I'm into
deep pinks
lately, remember?)
The beauty of this necklace idea is that if you change the paper under the gems,
you can have a totally different look.
You can find bags of these glass gems at the dollar store, so they are pretty cheap to make, too!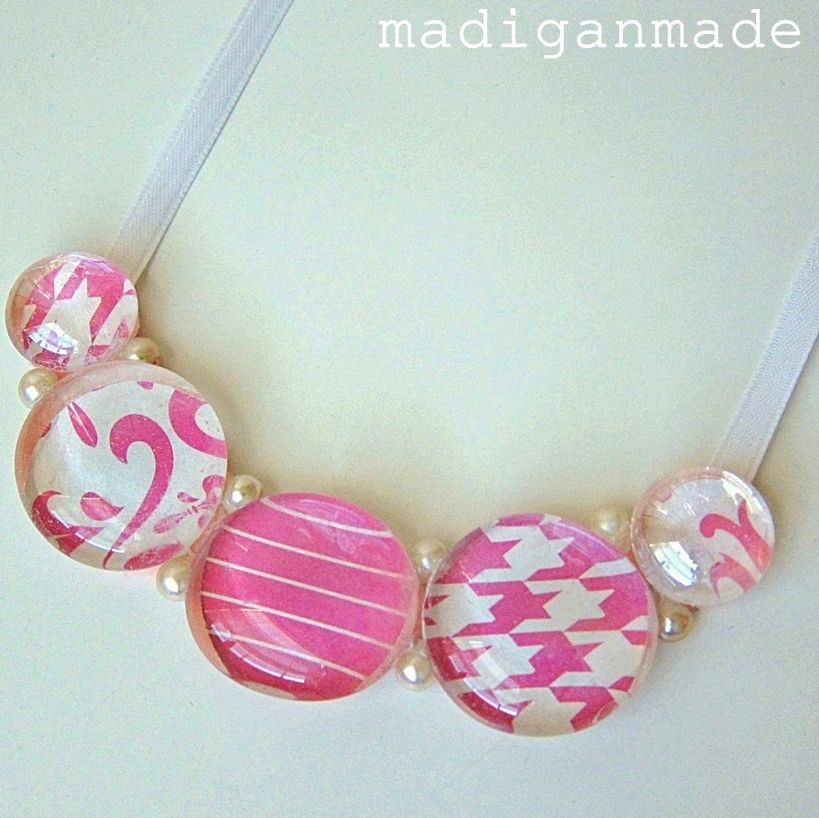 I still have a bunch of the glass gems leftover and I'm determined to find more projects for them.
Got any ideas for me?
Sharing with these fabulous ladies: