Madigan made... non-gift wrap gift ideas.
I'm the first one to admit that I LOVE pretty packages.
I'm a ribbon fan-a-tic, did I ever tell you that? I '
heart
' anything grosgrain!
And
I have to tell you that
my mother-in-law is the queen of lovely gift wrap, ribbon and bows.
Her gifts are almost too pretty to open. (maybe she'll let me show you some of them some day) And yes, she's the type that carefully opens gifts and wants to save the "it's just to pretty to throw away" paper. LOL!
But some days, I think it is fun and a bit unexpected to give a gift unwrapped.
Now, I don't mean handing your loved one their gift in an old plastic grocery bag. Y
our present can still look very cute unwrapped with a little creativity.
Here are some tips for "non-gift wrap":
1.
Use part of the gift to 'wrap' itself.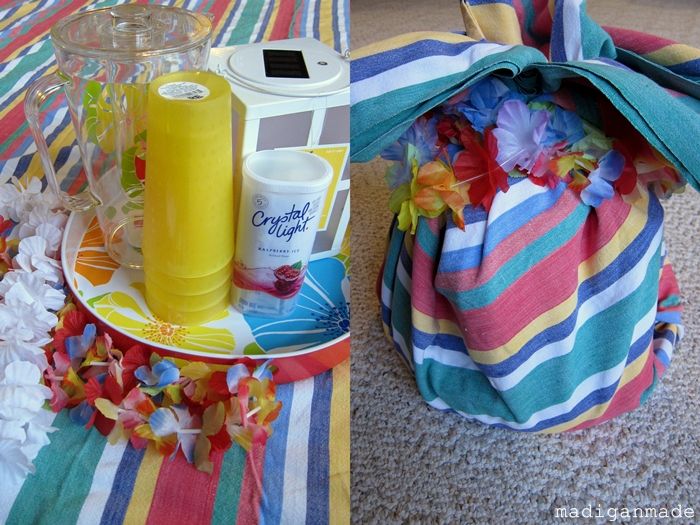 I gave this
lemonade drink hostess set
as part of a bridal shower gift this spring. I bought lemonade mix, a matching pitcher, cups, lantern and tray (all from Target). Then I just wrapped it all together with a colorful tablecloth. The Hawaiian leis were just a fun way to tie it all together. It was perfect for the start of summer.
If you give a gift that include fabric (towels, tablecloths, scarves, etc)... why not use it to wrap the gift?
2.
Create a container that the recipient can use with the gift.
I bought these coasters for my mom because the colors work great in her home. They did not come with a container to store them, so I wanted to create one. I just covered this heavy box with decorative paper and Mod Podge. It was a pretty way to hand it to her, and she can store the coasters in the box, too.
Give a gift in a pretty box or basket that can be used again.
3.
Use clear glass to show off the other goodies.
I used a hurricane vase with a candle and kitchen towel as a housewarming present for someone this past year. I thought it was pretty to be able to see the contents inside the glass. Vases or apothecary jars are a great way to present a gift like this, too (filled with soaps, household items, etc).
4.
Give reusable packaging.
If you are going to wrap something in a bag, why not make it reusable? Remember my
scarf that I sewed into a wine bag
? If you give a gift like this, your recipient can use the bag again for a gift, or use it to take wine some where. Look for cloth bags that can be reused again.
5.
Just tie a ribbon around it and call it a day.
I needed a cute way to 'wrap' a gift card last fall. I had a Halloween plate that I wanted to give the individual, too. So, I made a simple thank you card with matching card stock. I put the gift card in the card and tied it to the plate with ribbon.
Sometimes, that is all you need.... a little ribbon!
(and believe me I have plenty of it!)
Whether you wrap your presents or choose to use one of these cute alternatives, it is always nice to give (and receive) a package that was prepared with thought and care!
How about you?
Do you have any creative ways "not" to wrap gifts?
Sharing with: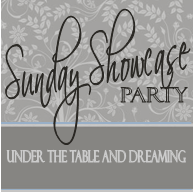 P.S.

Check it out!! My sunglasses holder was featured on Apartment Therapy's Re-Nest!! My heart skipped a beat when I saw this post. :D