Madigan made... an easy coconut and lime freezer pie.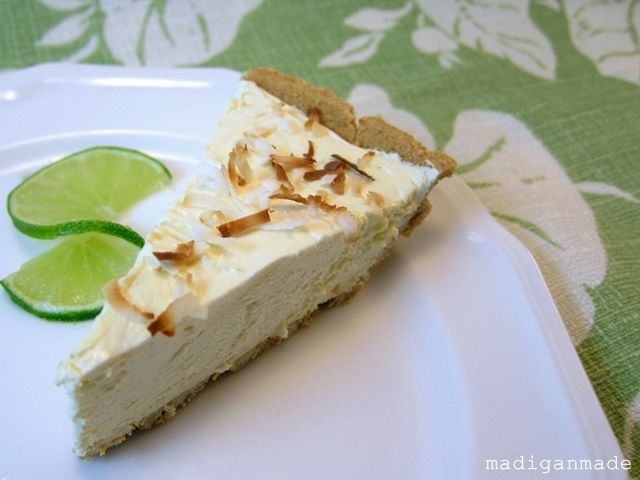 I already shared two fluffy dip recipes
on this blog (the
pumpkin fluff
and the
orange creamsicle fruit dip
).
I think I mentioned that
I wanted to try freezing one of the dips in a pie
to see how that would taste.
So, I experimented a little the other week.
I walked over the frozen section of our grocery with the
full intention to get frozen OJ to make an
orange creamsicle pie
.
But the

frozen pina colada mix

was calling my name instead.
I thought, "Why not, let's see how this will taste instead. It's coconut, how bad can it be."
It is no secret 'round here that I love coconut.
Go check out
this post
,
this post
and
this post
if you don't believe me. Heck, I even started a '
coconut' pin board on Pinterest
!
Even though I love coconut,
I rarely ever drink a pina colada unless I am poolside on vacation
(with my
poolside companion bag
). Pina coladas are so sweet and thick, they are almost like drinking a dessert. I can maybe only drink one.
But boy is a pina colada good in a real dessert. This pie was easy to make and turned out very yummy!!


- This recipe was a bit of an experiment. It was really good, but the pie filling was almost too sweet for me. I used 6 oz of concentrated pina colada mix. Next time I may add less OR add more lime juice. I suggest starting with 4-5 oz of the mix and add more to taste.
- I added the lime juice and flaked coconut for an added layer of flavor and texture. It would probably taste fine without them. Your choice.
- You will have leftover pina colada mix. Do I need to tell you what do with it? Mmmkay, good!



Frozen Pina Colada Pie
Ingredients:
4-6 ounces of frozen, concentrated pina colada mix
1 small package instant vanilla pudding
1 8 oz container whipped topping
Juice and zest of 1/2 of a lime
Handful (about 1/4 cup) of flaked coconut (optional)
Graham cracker pie crust
Garnish (toasted coconut or a lime slice)
Mix: Combine the first 5 ingredients in a large bowl. (Start out with less pina colada mix and add more mix to taste.)
Fill:
Pour the mixture and spread it evenly in a graham cracker crust.
Freeze:
Place the pie in the freezer for several hours until set.
Enjoy:
Remove from the freezer, cut a slice, add garnish (if desired) and dig in!
I was worried that the filling would end up soupy if I made the pie with 'just' whipped topping. It was not!
The consistency was thick and creamy.
I'm guessing that having the instant pudding in there helped it (and that the pie was frozen).
And if you don't like pina coladas (gasp!),
I can say with confidence that you can just use the
pumpkin fluff
or
orange creamsicle
recipes and freeze one of the dips in a pie crust.
By the way:
Writing this post I couldn't help singing either "If you like pina coladas..." or "She put the lime in the coconut...".
Are the lyrics stuck in your head now, too? :D