Madigan made... a cutlery caddy from a childhood memory!
Do you hang onto things for years in the hopes that you will someday make something cool out of it?
Well,
I've had this
wooden basket
forever,
in fact,
since I was a kid
.
Mom, if you are reading this, I'm sure you recognize it!
But it no longer holds My Little Ponies and Strawberry Shortcake... or Stars Wars blaster guns and Transformers. (Hey, I have brothers! And yes, we're old enough to own the originals of all those toys!) This basket went to college with me to hold books or stuff on my desk.
And I saved it all these years because it was
sturdy and a great size.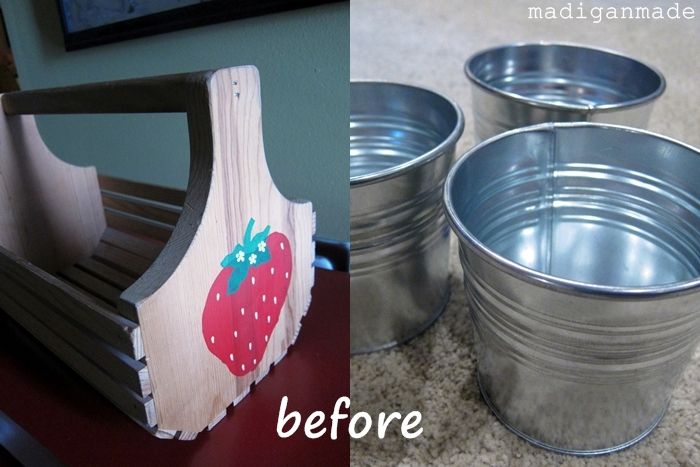 I just never knew what to do with it!
A basket for guest towels in the bath? A container for craft supplies?
Well,
I was on a kick making outdoor accessories for our
recently
updated deck with green furniture
. (remember the
no-sew placemats
from yesterday?) I was about to buy a cutlery caddy when I remembered that I had this basket that would work!
I grabbed some cheap
tin containers from IKEA
and
went to town with green and yellow spray paint.
(Valspar's New Avocado and Krylon's Bright Idea)
Since the tins would be touching the silverware, I taped off and only painted the outside of them.
I used my crafty cutter and cut out letters in vinyl and used it like a stencil to paint a label for the one side with white craft paint.
Let's call it my mini-version of the "EAT" sign you see around blogland in everyone's kitchen.
I love it!
It is the
perfect size to hold silverware, napkins and plates.
It is "ready to go" and stored just like this if we ever want to eat outside.
And it coordinates with our deck colors? Gotta love that!
(If I ever change the colors outside, this basket can change with a little paint, too!)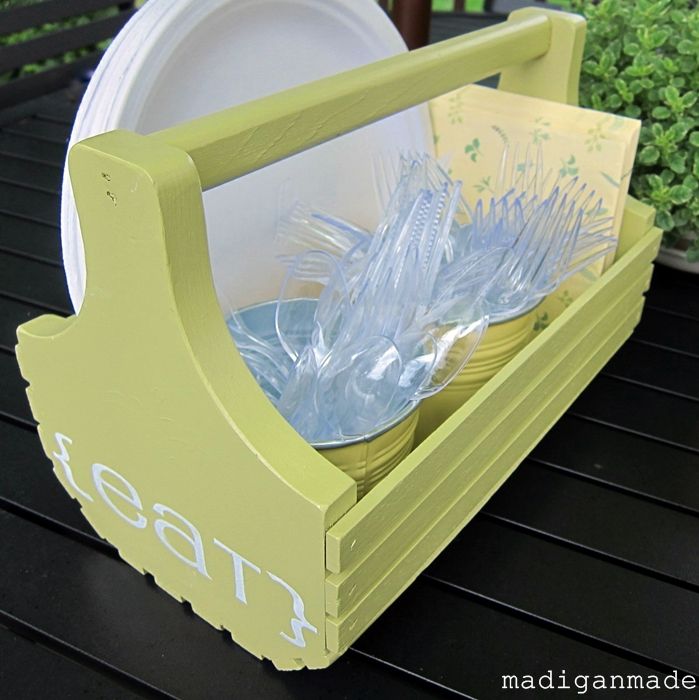 It does not hold cool 80's toys anymore... but I'm so glad that this little wood basket can be put to use again!