Madigan made... a card hold with resin-like decoupage.
Cheap. Quick. Easy. Cute. Recycled.
And no, I'm not talking about 'that' girl from high school. I'm talking about my new business card holder!






This card holder was
easy to make
and I
had all the materials on hand
. Little projects that produce a cute and quick result are always satisfying!
I originally ordered tiny "half" business cards for the
craft fair
I went to last November with my sister-in-laws. I ordered the cards because we talked about doing more craft fairs (we have not gone to any more yet). And I thought I could use the cards for blog related things, too. (haven't done too many of those yet, either)
But I took these cards to the
Philly "I Love Thrifting" Day
since I knew I was meeting other bloggers. I just had a rubber band around the cards and they got beat up in my purse. After that day, I knew I needed a little holder for them.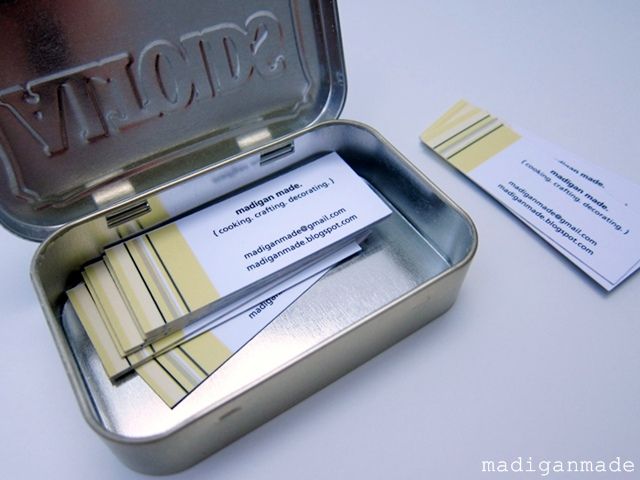 I love Altoids and the tin seemed like a great size for a business card!
I've also been d.y.i.n.g. to try
Mod Podge Dimensional Magic
! Playing around with a new medium was a great way to
get my creative juices going again
.
If you've never heard of it, Dimensional Magic gives a raised, resin-like look to a surface. When applied, the glue is cloudy but it dries crystal clear.
To cover the tin, I used a fun piece of scrapbook paper and cut it to size to fit over the wording on the lid. I took a rounded corner punch to finish off the corners.
I put a layer of regular Mod Podge between the tin and the paper to adhere the paper down. I also used some of it to place a coordinating strip of paper along one edge.
After that dried, I played with the magic! I started by outlining the paper surface with a bead of the liquid.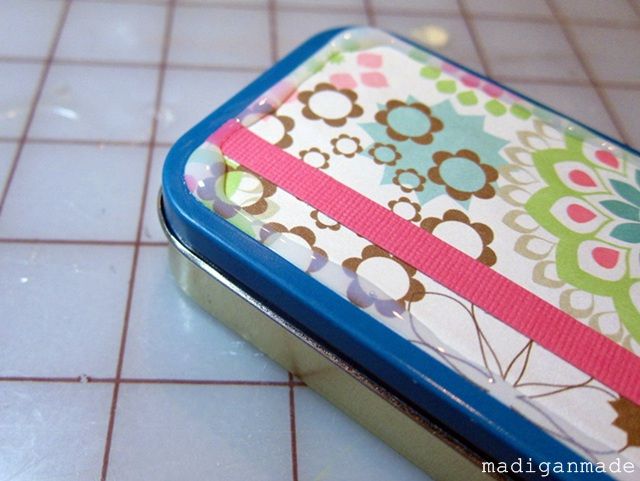 Then, I carefully filled in the interior of the square with the glue. The surface tension of the liquid kept it from traveling very far, even as I moved across the paper.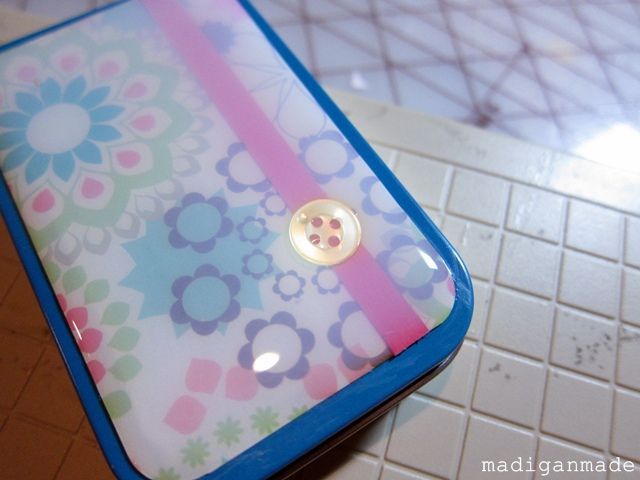 I worked slowly to cover the surface, but still ended up with a few bubbles.
Finally, I dropped a button in the glue and pushed it around with a pin so that the glue covered most of it.
After drying overnight - I was excited to see a shiny, clear surface in the morning!
You could customize these tins in SO many ways. I'm certainly not the first person to repurpose a tin with a little decoupage. Adding the Dimensional Magic makes the surface very durable and shiny.
Someday, I'd love to go to a blog conference and this card holder would be in my bag, for sure! It looks so cute and is a fun way to carry your deets.
I love quick, easy, and recycled crafts, don't you?