Madigan made… spooky ideas from a theme park that you can use at home!
What inspires your holiday décor?
Sometimes, I get ideas from unusual places. Last October, we went and visited my husband's sister-in-law in Virginia. We joined her family to spend the day at Busch Gardens and its Halloscream event.
I had never been to an amusement park in the fall and it was a ton of fun. After the rides during the day, at night the park had great haunted houses / displays to walk through. The production of the events were top notch and I did get spooked a few times! (
Giant spiders leaping towards
me? Yeah, that's #1 on my list of fears!)
But, what I also loved was that
the park was decked out everywhere for the holiday
.
And theme parks? Yeah, they do Halloween right!
Let me show you some of the neat ideas I saw that you might be able to use around your home.
First of all,
check out the spooky wreath
. Just take a grapevine wreath, tie on some rags and add a black crow. How simple is that?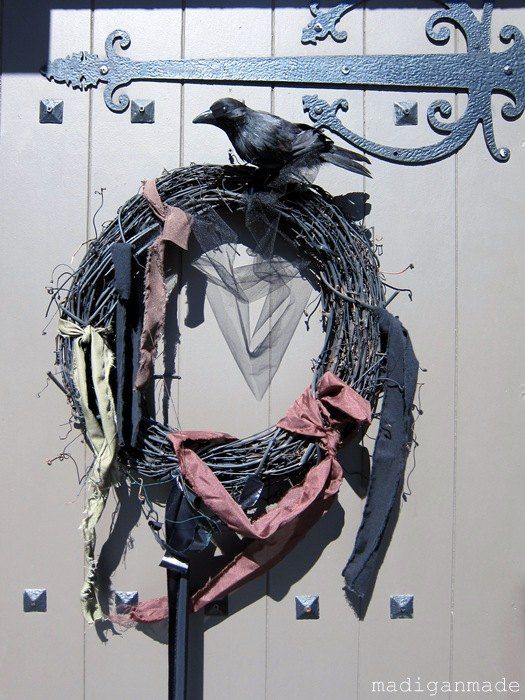 And this scene
overrun with mice
!
And
flocks of big black crows
on the rooftops! And that
tattered black rag flag
? How easy would that be to make? Maybe even as a garland?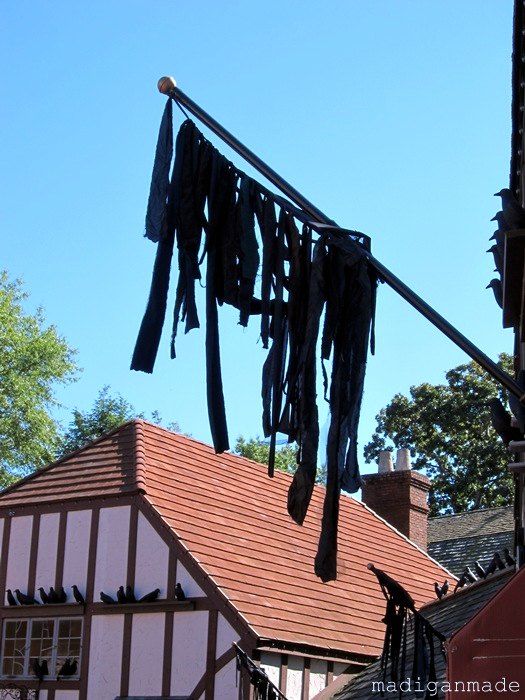 Or, check out this
huge group of ghosts
hanging out in the trees.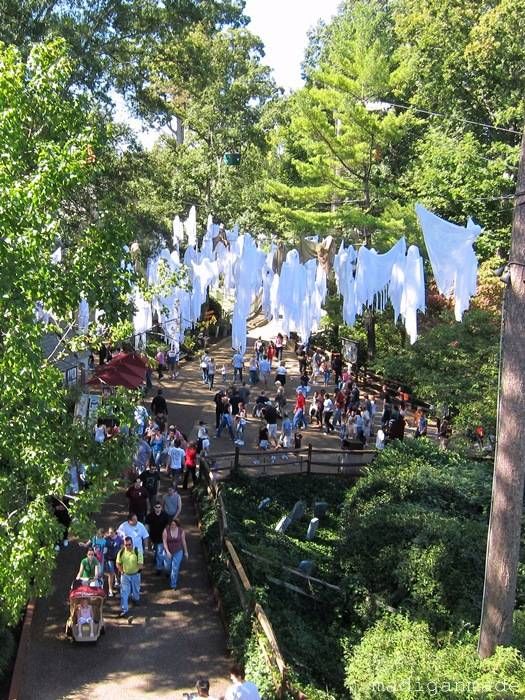 Every idea I mentioned is fairly simple (and expensive) to execute.
So… what makes them work
?
I think it's the
repetition of the same motif
over and over that
gives the elements huge impact
from a distance. Think: loads of mice, flocks of birds, packs of ghosts, etc.
How could that approach work for you at home?
Well, instead of one little spooky element here and one little scary thing there… go all out and repeat the same thing over and over in one area.
The dollar store makes this very easy to do!
For $20 at the dollar store, your front porch could be overrun with yucky (plastic) mice… and I think it could look so creepy!
For another $10 at the dollar store, you could line the top of your china hutch with black crows. (Just ignore their beady-eyed stares.)
I'm not sure if I'll use any or all of these ideas for our Halloween décor this year. I'm still smitten with last year's
vintage spooky kitchen
and I don't know if I can change it. It was a scary yet classic scene all at the same time.
But
I'm toying with the idea of going a little more creepy this year
. Especially after seeing these pictures again. So, we'll see!
Even if I don't use these ideas, I loved them and wanted to share…
How do you decorate for Halloween?
What inspires you?