Madigan made… quick and easy handmade craft ideas you can make today.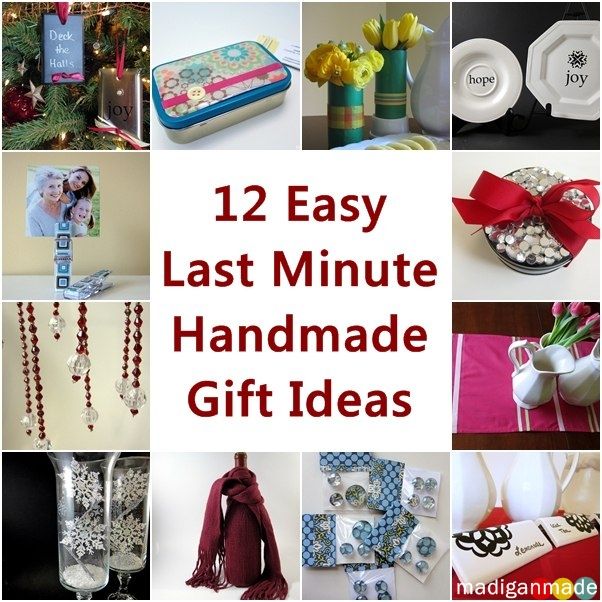 Christmas is almost here. Are you done your shopping yet?
I'm getting there and I hope you are, too.
I think that handmade gifts are always a nice and personal touch for gift giving. They also can be inexpensive gift options, too.
Are you looking for a quick and easy handmade gift idea?
Maybe you need an idea for a teacher or coworker or party hostess. Or you just need a little stocking stuffer for someone special.
Below is a list of some of the simplest crafts I've made to date that could make lovely gifts. Most require very few supplies and can be made in under 30-60 minutes. There's still time! You can make one of these crafts today for a pretty gift.
12 Simple Handmade Crafts and Gifts:
(from kitchen towels and ribbon!)

(from an Altoids tin, paper and decoupage)

(from dollar store glassware and strong glue…if desired, decorate with snowflakes!)

(from flat glass gems, paper and magnets)

(from a dollar store scarf…perfect for a hostess gift!)

(coat switch plates with chalkboard paint or decorate with vinyl)

(from a tin, rhinestones and thick decoupage)

(from an old water bottle, paper, ribbon and decoupage. customize with seasonal paper!)

(from corner tile and vinyl… use for placecards, buffet signs)

(from pretty beads, a crimping bead and length of jewelry wire)

(from a little vinyl and decoupage on a plate)

(from plastic dollar store clothespins, decoupage and paper)