Madigan made… a gilded tree, lit through a canvas.
There is something about the shine of metallic gold and glowing twinkle lights that just evokes Christmastime to me.
That's why I love this new framed tree on canvas that I made from an old frame, a broken string of twinkle lights and a bunch of gold wire wrapped ornament things. (I picked up the ornaments very cheap on clearance at the dollar store last year.)
Remember the diy 'art' I made for our old foyer area? (before I changed it for the bench and gallery wall)
I was upset a couple of months ago to see that the glass on that frame cracked in our storage area.
BUT I took that unfortunate find as a sign that I should make something out of the remaining frame. I've wanted to create a twinkle lighted canvas after I saw this
beautiful lit canvas at Apartment Therapy
(found via Pinterest).
And, since twinkle lights = Christmas in my head, I thought it would be perfect to create a lit canvas for the holidays.
It is kind of hard to see the tree 'lighted'in my photos… here is another one I took with the lights a little dimmer.
Once I find a place to hang or lean it, I will try and take another picture for you. Trust me, it looks very pretty!
You can tell it looks like a tree, right? The shape is a little abstract, I know. But I kinda like it that way!
How I made this 'tree' came about a bit organically. I was not sure what the design was going to be when I started to make it. I had planned on just creating an abstract grouping of lights. But when I stepped back, I realized that there was a sort-of tree shape going on with the lights. So, I went with it.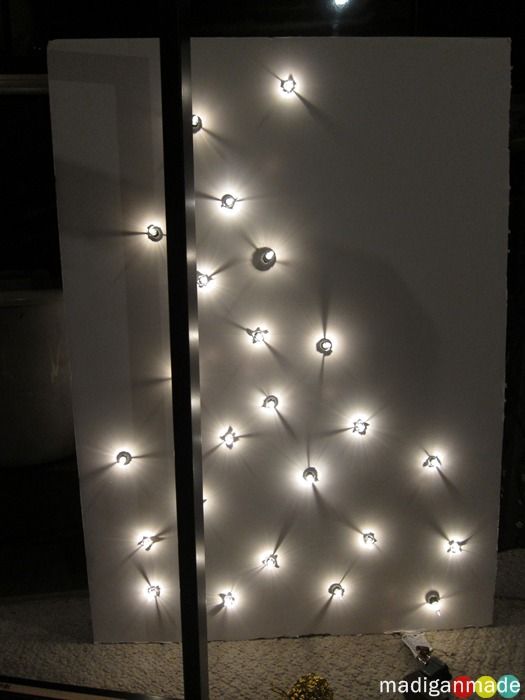 To create this framed and lighted art:
First, I cut a piece of foam board out that would fit in the frame.
Then, I used an awl and poked holes through the foam and stuck a light through each one.
I did not use all the lights on the strand. I took electrical tape to secure down any extra cord and lights to the back of the foam core. To secure the board into the frame, I used big dollops of hot glue in the corners and around the sides where the frame and foam met in the back.
I spread a hole in the wire balls and used hot glue to attach each one over a light that poked through.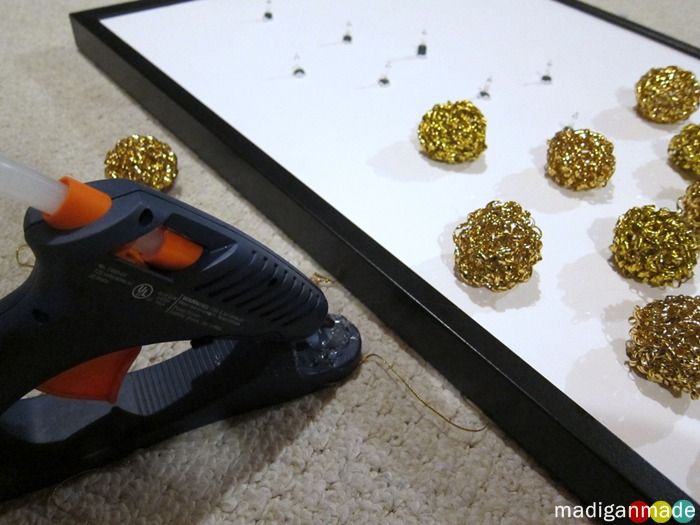 I
felt that the canvas needed more, so I fill
ed in and attached the remaining wire balls I had down onto the board to fill in the 'tree' shape.
I grabbed some mini gold ornaments and glued those down, too.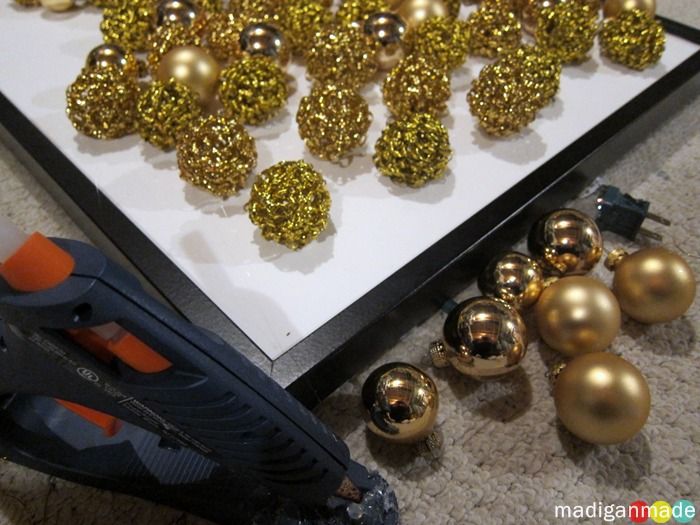 I wanted some smaller gold circles…and I remembered that I had these gold hair ties that I picked up from the dollar store years ago (I thought they'd make good craft beads). I attached those around the larger balls using the hot glue, too.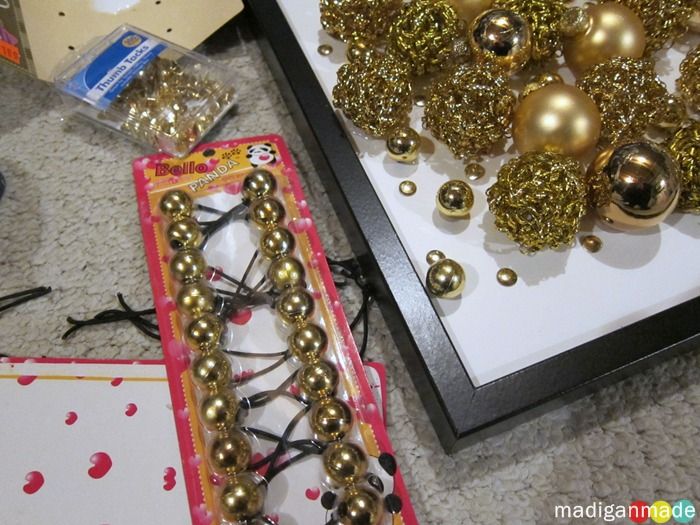 I also figured that a few gold thumbtacks would look cute. So, I just pressed some of those into the foam board. The frame is thick enough that I don't need to worry about the tacks sticking out far enough to scratch the wall behind the picture.
I used more gold tacks at the bottom of the frame to create the look of a tree trunk.
I haven't found a 'home' for this new lighted tree art yet… but I probably will just lean it somewhere. (there are a lot of wires in the back) I love the black, white and gold… so I'm thinking somewhere in the office/den (near the china cabinet bookshelf and the sunburst mirror).
Wherever I end up placing it…I can't wait to see it lit up, twinkling and glowing!
Sharing with link parties here:
Tatertots and Jello, Under the Table and Dreaming and Tidy Mom