Madigan made… one handmade card but mailed out another!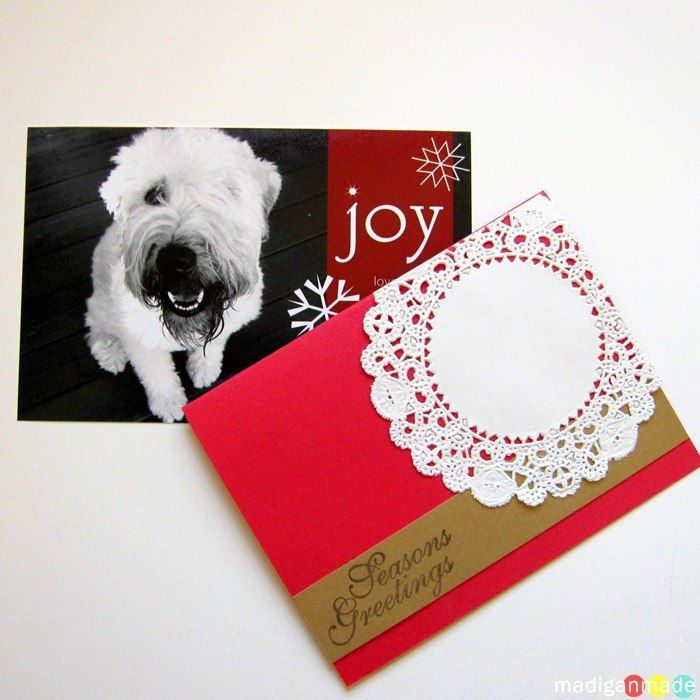 I enjoy making handmade cards. I'm sure this fact will not shock you, but my cards are always pretty simple in design and execution. I've shown you some of my prior holiday card ideas including the simple die cut ornament card I mailed out last year.
This red, white and gold doily card is the original mock up for the Christmas card I planned to make this year.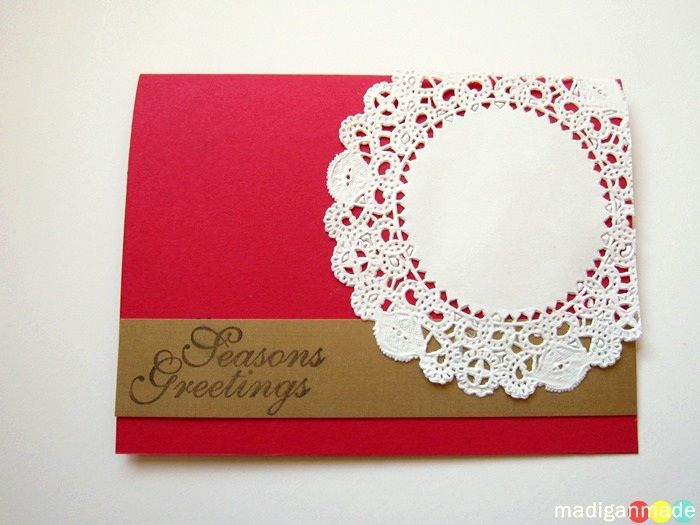 Pretty simple, right?
I used an 8.5x11 sheet of red card stock. I cut that sheet in half and then folded one of those pieces in half to make a card. I cut a strip of gold card stock to fit across the width and stamped small holiday sentiment on one side of that strip. Then, I trimmed a small doily to fit in the upper corner of the card. I loved the elegant yet still modern feel of the doily on the card.
Even though this doily card was easy to create… time got away from me and I did not feel like making these cards this year. Plus, I'm not the straightest stamper (I have to stamp a bunch of times and I end up wasting paper to get clear results) and the doilies were not adhering along the edges as well as I hoped (I tried glue sticks and scrap booking adhesives)… both facts frustrated me.
So, I figured that a photo holiday card would be easier and faster for me to get out this year. Plus, part of me really wanted to send out a photo of our puppy to our friends and family instead.
When I started to look online for photo card options, I was surprised at the cost of the more custom looking cards. It figures… those were the ones I liked the most!
Being the DIY-er that I am, I thought to myself, why not just make my own photo card?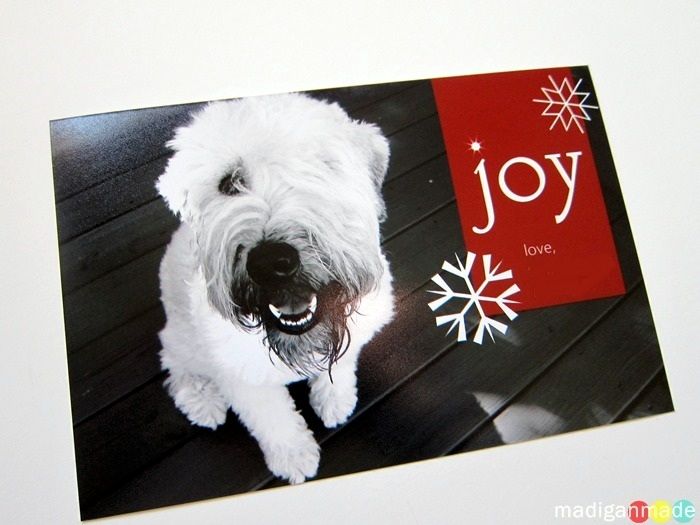 So, I did! I opened up PhotoScape (a free photo editing software you can download) and cropped my favorite pic of the dog from this year to a 4x6 photo. Using the editing software, I added a burgundy rectangle, some snowflake graphics and a little text. I saved the image as a photo. If you don't have PhotoScape… Picasa or Picnik (both free software) will also allow you to edit your photos similarly, too.
Then, I sent the photo to a local 1 hour photo center and had a bunch printed!
I found some envelopes that held a 4x6 photo at an office supply store. All I had to do was pop the photos into the envelopes!
No glue, no paper cutter, no stamps… hmm. I might have to do this every year!
I saved a bunch of money by go
ing this route, but I probably could have saved even more per print if I was willing to send out and wait a day or two for the photo prints to arrive by mail. Even with the one-hour photo, this approach was still cheaper than the professional route, and I got a custom and personalized card design.
So, I thought I'd show you both DIY card ideas that I considered this year. Whether you want to whip up some handmade elegant cards with doilies or knock-off a professional photo card – there's probably still time for you to do either one!
Sharing with:
Tip Junkie, The DIY Showoff, Under the Table and Dreaming