Madigan made… a new chalkboard update and a color dilemma/question.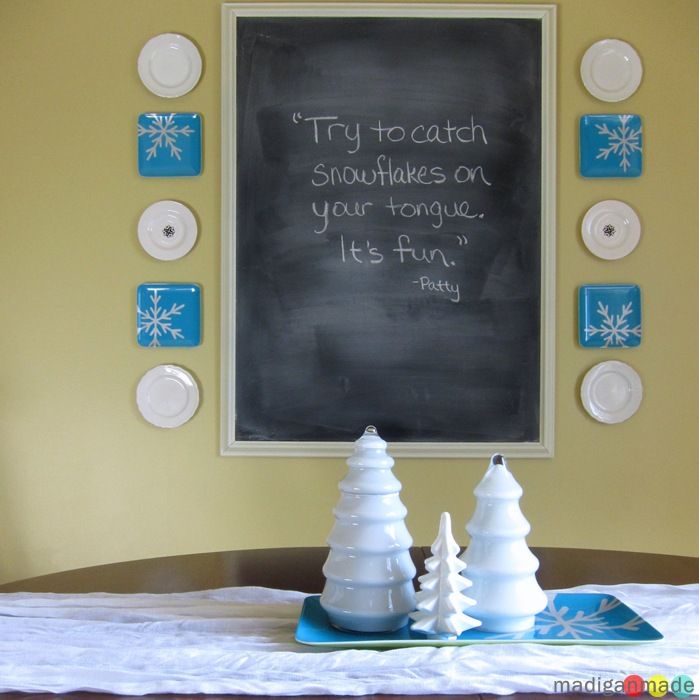 After my 2011 chalkboard quote recap yesterday, I figured I'd show you the updates I made to the space for January.
Notice something about the quote?
It's the same one as last month?
Yep, I was a little lazy! ;o)
But wait! There is a reason I left this quote up…
When I found these graphic square melamine snowflake plates on clearance at Target last week, I knew they'd be perfect for a winter scene in the kitchen. And I knew that last month's quote would be perfect for the area, too!
then you already saw these plates when I had them in my cart last week!)
I couldn't resist grabbing a matching long snowflake tray!
With a couple of my milk glass Christmas trees and an old white scarf for a table runner… the tray made a great little table centerpiece, too!
I'm really loving the fun color of these plates.
I've always been hesitant to bring in blue into our kitchen. The cabinets were white, the walls were a tan-y yellow and I used a few red accents in the space… but I was never sure what other colors to add, if any.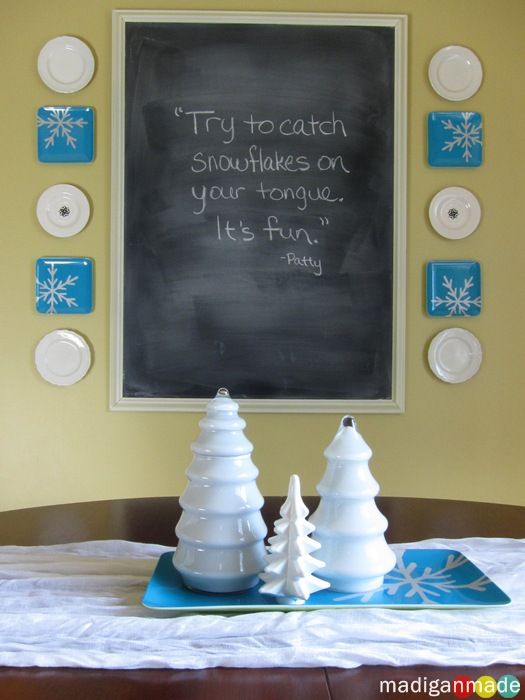 I've used a little mossy green… like the red, green and yellow plaid trim on the window valences and in the apple print. And I have moss green on the walls in our family room (

Which I hate. detest. can't stand. Can you tell I don't like the color?

).
Red, yellow and green never felt 'right' for me.
It is classic, but the combination feels a little old and tired.
When I see the turquoise blue this month and if I look back at the red and teal décor from June for the Fourth of July holiday… I feel like that color added a fun and fresh element to the space when combined with the rest of the kitchen.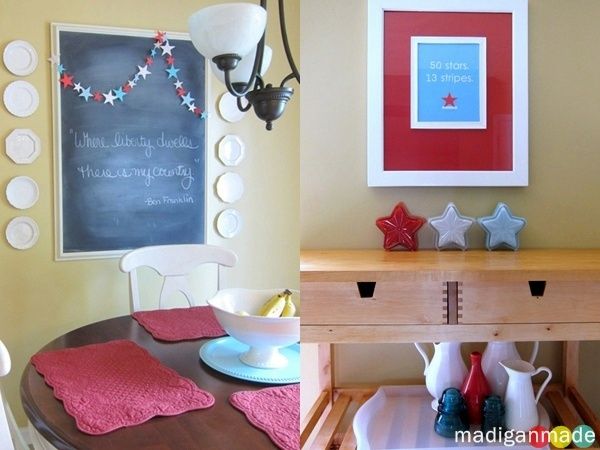 Is red and turquoise 'over' yet? I see that combo a lot when I look around the blogs and the internet… is it too trendy or cliché?
What about red, yellow and turquoise?
Clearly, I love that mix since I used it for my blog design… and that logo color combo was inspired by my cheery sunglasses holder.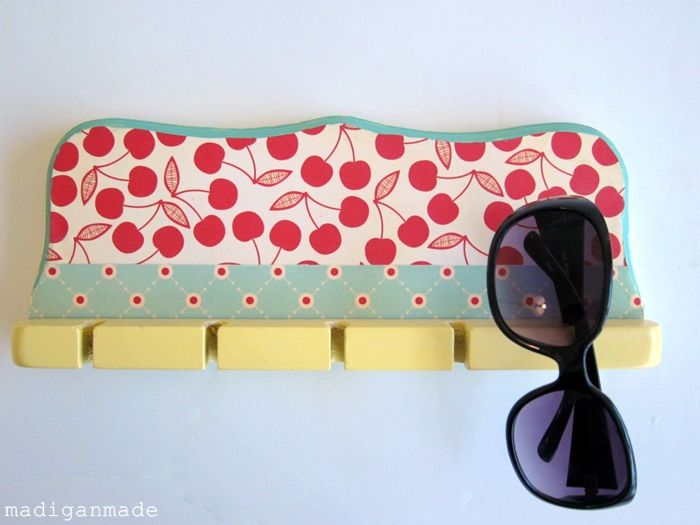 Hmm. Whether it's trendy or not, I'm really considering mixing in a little turquoise into our kitchen! It would be a small change I could make with accents… but I think it might be an easy way to freshen up the space.
What do you think?
Should I go for it?
Out with the green and in with the turquoise?