Madigan made… an easy ombre ponytail holder craft.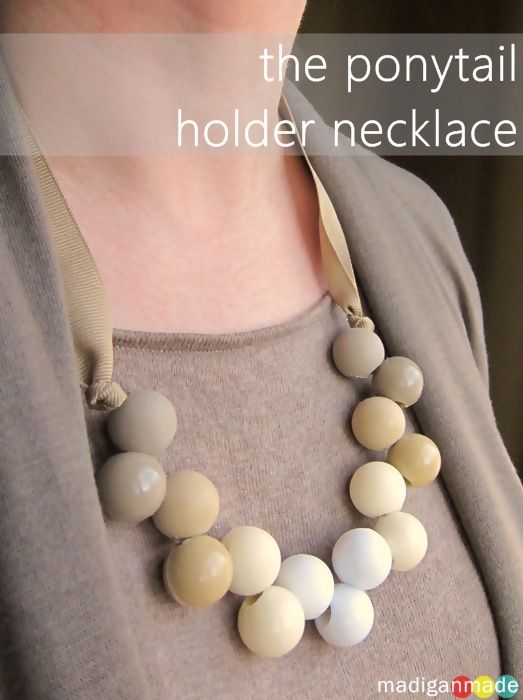 I don't know about you, but when I go into a dollar store, I walk every single aisle.
Why?
Because you never know when you are going to find a new crafting supply! (like kitchen towels or ball pit balls)
So, when I passed through the hair accessory area recently, I paused in front of a package of neutral toned ombre hair ties. I loved the colors and, boy, did they bring back memories of my childhood!
C'mon, you know you wore big ponytail holders (pom-poms or beads) like these as a kid!
I did and I can prove it:
(Please keep any comments about the overalls and mega-bangs to yourself. I know. I know!)
But getting back to the ponytail holders I found…
I love the graduated colors of these beads and their chunky size. The only hang up I had with them was the angled holes through each bead. Oh, and the fact that they kinda looked like cheap plastic beads?!?
To try and remedy the cheap plastic-ness, I sanded down some of the beads to give them a matte finish. Let me show you…
To make this easy ribbon and bead necklace, follow these steps:

Gather your supplies:

A package of ponytail holders (with at least 16-20 beads in it)

Trim the beads from the elastic cords

Sanding block

Coordinating, thick ribbon

Sand the surface of half the beads to a matte finish with the sanding block.

Tie a knot in the ribbon. String the beads in a pattern you like. (I alternated the glossy and matte finishes and used an ombre pattern. I also used an odd number of beads so there was one bead in the center.)

Tie the other end of the ribbon as close as you can against the last bead.

Trim the ribbon to a length that allows you to tie the ribbon to the desired size necklace.
This ombre necklace was sooo quick and easy to make. And I kinda like how the angled holes of each bead created a staggered, stacked effect with the beads.
By using a mix of matte and shiny finishes on the beads, I think it makes the piece look more like a beaded necklace and not cheap, plastic hair ties. I'm loving it against this brown sweater, too.
After this project, I definitely will be slowing down more in the hair accessory aisle of the dollar store now!
How about you… have you found unusual craft supplies in odd corners of the dollar store?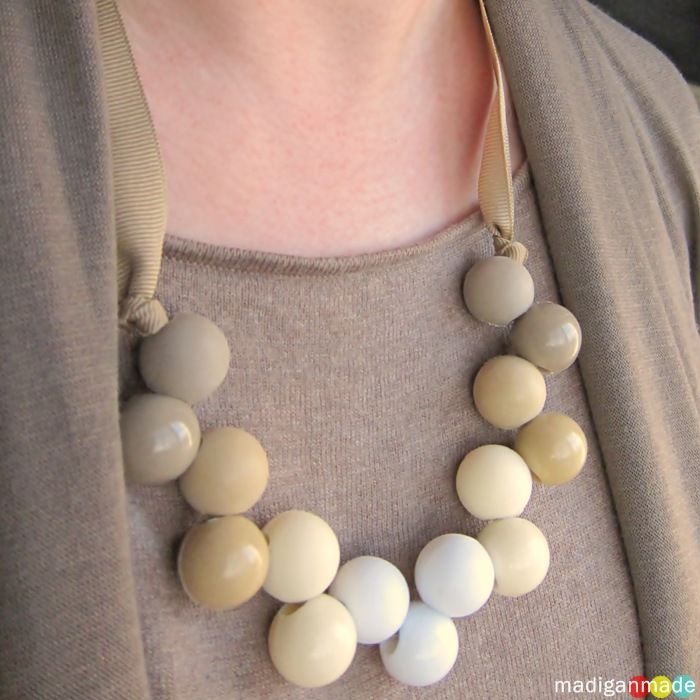 I'm sharing this post with link parties on these great blogs:
Today's Creative Blog
,
House of Hepworths
,
Tidy Mom
,
Tatertots and Jello