Madigan's mom made… an easy, chocolate, (almost) no-bake dessert.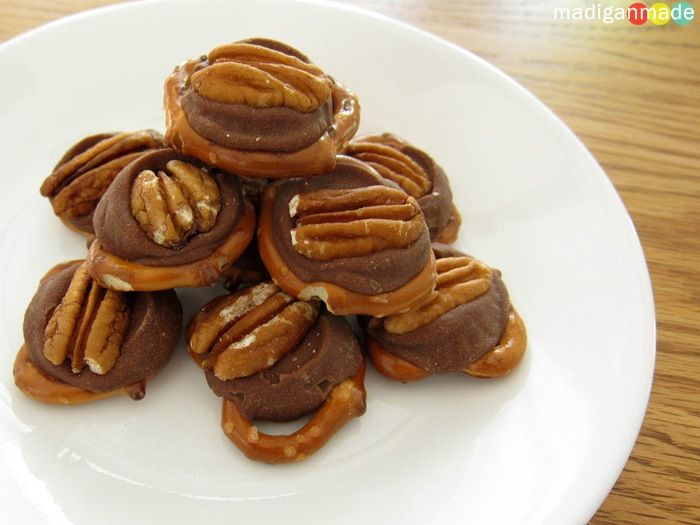 I know where I get my appreciation of simple, uncomplicated and yummy recipe ideas: My mom!
My husband and I went to visit my parents around the holidays in Ohio. And while we were there, my mom was eager to have me try these pretzel bites she made.
She knows I love sweet and salty… and she knows that I love easy recipes!
I also realize how much you, my readers, appreciate these kind of eats, too.
So, you know I had to snap a few pictures for you… and of course tell you how to make these goodies!
You might have seen these turtle bites before but they were new to me. They sounded so simple to make. And the treat is a combo of some of my favorite things: pretzels, caramel, chocolate and nuts!
Why not make a few for your Valentine next week?
Chocolate & Pretzel Turtles
Recipe source: my mom
Ingredients:
Rolo candies, unwrapped

Pecan halves

Pretzels
Directions:
Preheat the oven to 325 or 350 degrees.

Line a baking sheet with aluminum foil. Lay pretzels flats onto the sheet.

Stack a piece of chocolate candy on top of each pretzel.

Place the tray in the oven and bake the candies and pretzels for about 3 minutes or until chocolate is softened. Watch carefully! Your oven may require more or less time.

When the chocolate is soft, pull out the baking sheet and very quickly press the pecan down on top of each Rolo. Allow the candy to fully cool.
Enjoy! (but be careful… these bite-sized treats make it hard to eat just one!)