Madigan made… a spring craft and a crafty challenge!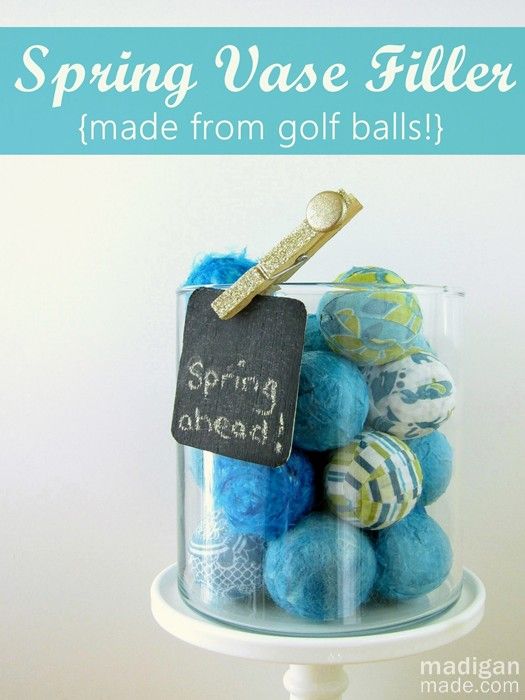 How do you motivate yourself to get creative? Sometimes you need a push, right? Well, I was pretty excited to participate in a fun challenge from the craft store
Scribble Shop
! Scribble Shop is an online craft store with a huge variety of craft goodies and supplies.
They sent me an assortment of different craft supplies to create a project.
When I opened up the box from them… I initially was stumped. What the heck can I make from this group of crafts? I knew what to do with the candy… ;) But feathers? Wool roving? Combined with glitter?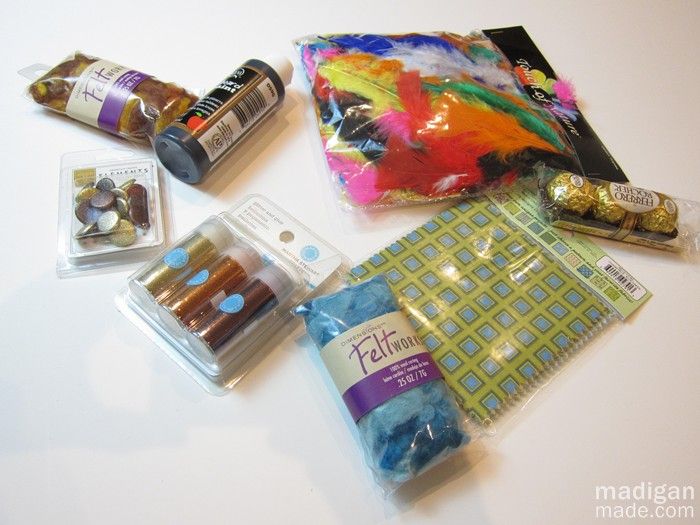 First, I opened up the packages and sorted everything. I was immediately drawn to the blue colored fabric, wool and feathers. I also noticed that the paper from the packaging was a pretty turquoise, too. If I a
dded a little gold and I had a color scheme!
But what surface could I put this stuff on?
I walked around our basement for inspiration. I paused in front of a big bucket of golf balls near my husband's golf bag. He golfs a lot and always picks up used golf balls he finds on the course. I figured he wouldn't miss some of them… and they'd make cute vase filler! (This is not the first time I've crafted with his golf balls. Remember my golf ball wall art?)
Want to make some (golf ball) vase filler from your spring décor? Just follow below:
Materials Needed:
From my Scribble Shop Goody Box:
From my Stash: (though you can also find most of this stuff at Scribble Shop, too!)
Directions for Crafting Your Own Vase Filler from Golf Balls:
Warning: Be ready to get a little messy with the Mod Podge for this project. I had to work in stages since there is no simple way to cover a spherical surface with glue!
Step One: Adhere tissue paper to several golf balls with decoupage.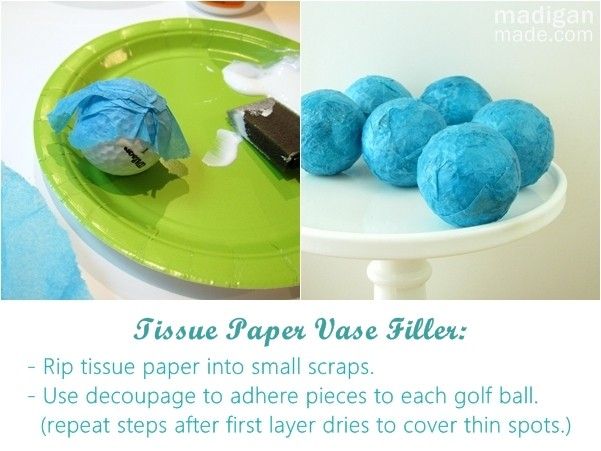 Tip: I brushed a coat of decoupage onto the ball and laid pieces of tissue on top. After I worked my way around the ball, I let that dry and then added another layer.
Step Two: Glue pieces of feathers to a few golf balls.
Note: These feather balls took forever to make. I stopped after I made only three of them. I had to keep adding feather pieces… then wait for the Mod Podge to dry and then go back to adhere more.
Side note: I think these feather covered creations are a wee bit scary. I can't decide if they look more like an anemic Fizgig (from the Dark Crystal) or a psychotic blue tribble (Star Trek). (And based on these references, your guess is correct. Yes, I'm a sci-fi fan… or at least was raised by one! Thanks, Mom!)
Step Three: Mod Podge fabric strips to make more vase filler.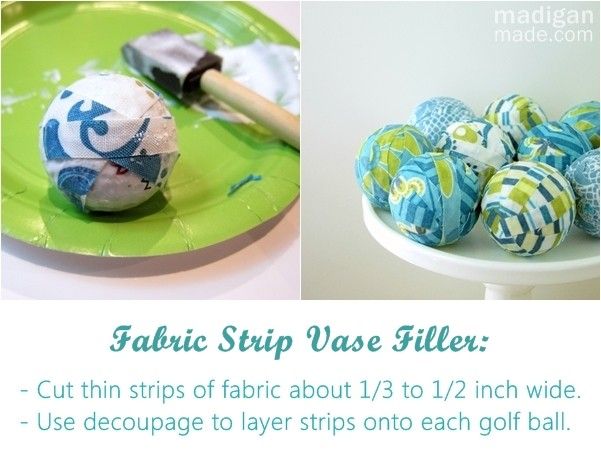 Tip: The fabric squares in the package were the perfect size to wrap around a golf ball. All I needed to do was cut the fabric into strips. I was able to cover one golf ball with each square of fabric. Like the tissue paper and feathers, I worked in stages. I attached 4 strips… allowed those to dry, then adhered more fabric until the golf ball was covered.
Step Four: Create felted golf balls.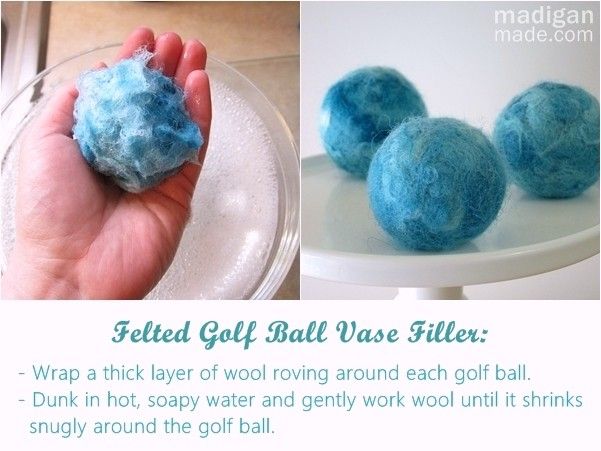 Note: I admit, the directions I gave you here are a little basic. There are a few tricks to felting stuff and I'm probably going to need to dedicate an entire post to the felting process. I found helpful tutorials at Lil Fish Studios and Resurrection Fern and I used both of them for tips. I'd start there if you can't wait for my full instructions! I was able to cover 3 golf balls with the package of blue wool I received.
Step Five: Make a clip-on chalkboard sign.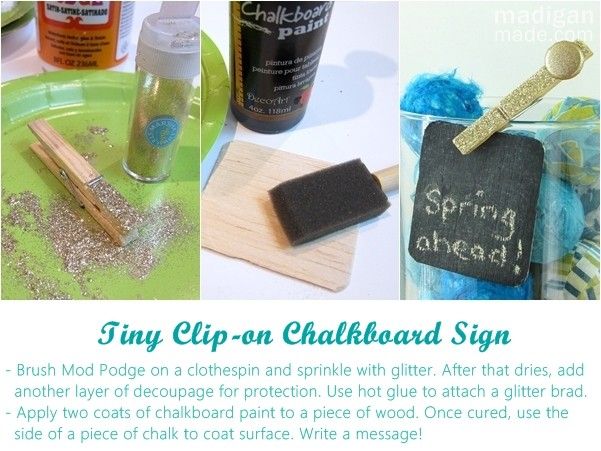 Tip: Brush the coats of chalkboard paint on in 2 different directions. Be sure to allow the chalkboard paint to dry according to the package directions.
Step Six: Fill your vase and add a sign.
I had this cylindrical vase that was the perfect size to hold my vase filler. I clipped my little chalkboard sign to the side of it for fun. Each type of ball has its own texture but I love how the color blue unifies all the random craft supplies.
Do you have a favorite vase filler? I'm partial to the felted ones myself. I definitely need to tell you more about how I made them… because I think I want to make some others soon!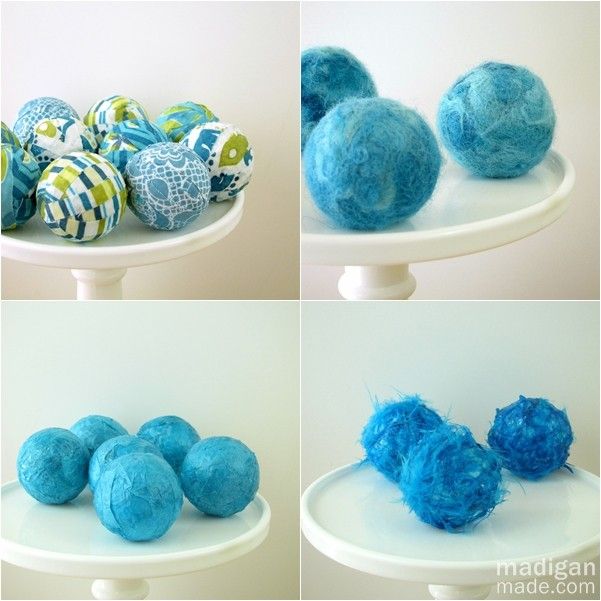 So, how'd I do with this crafty experiment? I'm happy that I was able to use each type of material and I even used the tissue paper. I want to send a big thanks to Scribble Shop for sponsoring this challenge. It definitely pushed me to think outside my creative zone. Aside from their online shop, you can also find Scribble Shop on
Facebook
,
Twitter
, and
Google+
.
If you were interested in any of the cool crafts at Scribble Shop, they are offering a

coupon code

to all Madigan Made readers.
Just enter "MADMADE" to get 15% off your purchase.
(Code is good until April 30th)
---
My full disclosure for this post can be found
here
.
I'm also sharing this project with link parties here:
Addicted 2 Decorating
,
Tatertots and Jello