Madigan made… a new crafty series.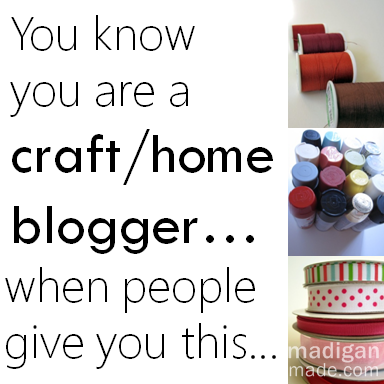 I thought it might be fun to start a new series here on Madigan Made.
I'm not sure if this happens to you, but as a crafty and creative person… People I know give me lots of random stuff. And I love it!
They comment: "I thought you might be able to make something out of this stuff."
Gosh, these people know me!
Sometimes I know right away what I want to make with the hand-me-down. Other times, it sits in a drawer until inspiration strikes. (like my money-clip-turned-jewelry-slide)
Well, my family has known for awhile that I want to make crafts with wine corks. Hubby and I slowly started to collect our own corks in a glass pitcher on top of our fridge.
Then, my sister-in-law and some of their friends started to save corks for us, too! We have so many that our one pitcher is now overflowing.
What would you make with a bunch of wine corks?
I've featured a couple of neat wine cork projects on the blog (a wine cork vase filler and wine cork wreath) and I'm still not sure what I want to do.
I have a rudimentary idea that could be a complete fail or totally awesome. By my calculation, I still need a few more corks. Darn, I guess that means we have to drink more wine! ;)
So, be sure to stay tuned for a wine cork project from me!! Crossing my fingers it will be as cool in real life as it is in my head!
Are your family or friends constantly handing you stuff that they think you can use for your home/crafts? I'd love to hear any fun stories!