Madigan made… easy tactics you should know: SEO and blogs.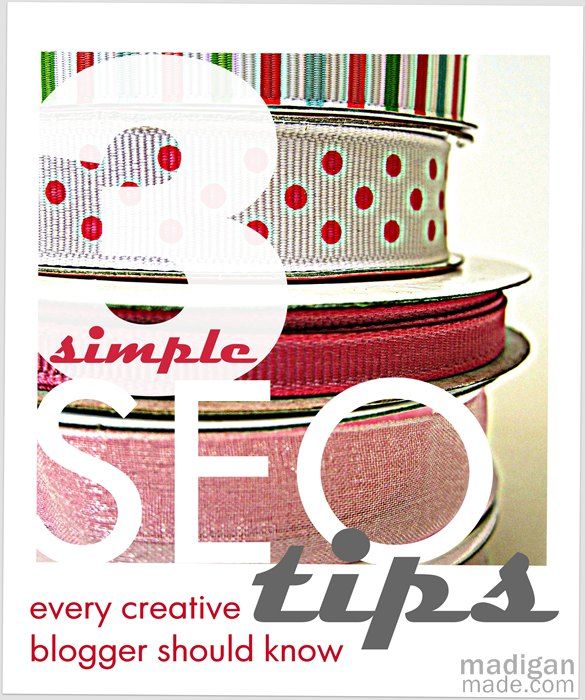 SEO. Those three little letters can be so intimidating for bloggers!
You might be asking:
What is SEO?
Well,it stands for
search engine optimization
… it is HOW people find your blog's content through search engines (Google, Yahoo, Bing, etc.). And there are some things you can do as a blogger to help those networks find your content. You don't
have
to do these things, but SEO is an important tool that can help others discover your blog and so that your posts get to the top of those search engine lists!
But SEO for blogs is NOT an easy thing to understand.
And this post comes with
a few words of caution
:
First, I should warn you that I am NOT an SEO expert. I'm just wee little craft blogger. I'm NOT here to tell you the percentage of keywords you should use per post OR how to make a sitemap. But I have picked up a few simple practices over time that helped me.
What I am sharing with you today are a few VERY basic tactics that I use with my posts to help those search engine bots find my tutorials. I'm always surprised when I talk to other bloggers online and they might not be using these methods yet. I figured that this post might help some of you that were unaware of these tips.
You should know that SEO is very complex and this advice barely scratches the surface of what you can do to optimize your blog for search engines. There are many, many more things you can do with your blog's set-up and within your posts to help people find your content. I eventually would love to take an online workshop or get a book on SEO – but you can add that task to my very long bloggy to-do list. :)
For now,
I thought I'd share with you 3 basic things that I do with all my posts for search engine optimization.
If you are NOT doing them… you can start applying these tactics and they
will
help your blog.
NOTE
: I'm going to talk below about
using descriptive tags and key words.
Now,
there IS a science
to picking good key words. You can research what are the best key words for your post by looking at
Google Ad Words
and following a few strategies. (And I'm not knowledgeable enough to really go into those methods this post.) If I have a post that I think will be a popular topic, I might spend a little time looking at Google Ad Words. But to be honest, I often just pick tags and phrases that I'd use if I was trying to find that idea or project online.
3 Simple SEO Tips for Craft Bloggers:
One. Post titles - be descriptive and specific so search engines can find you.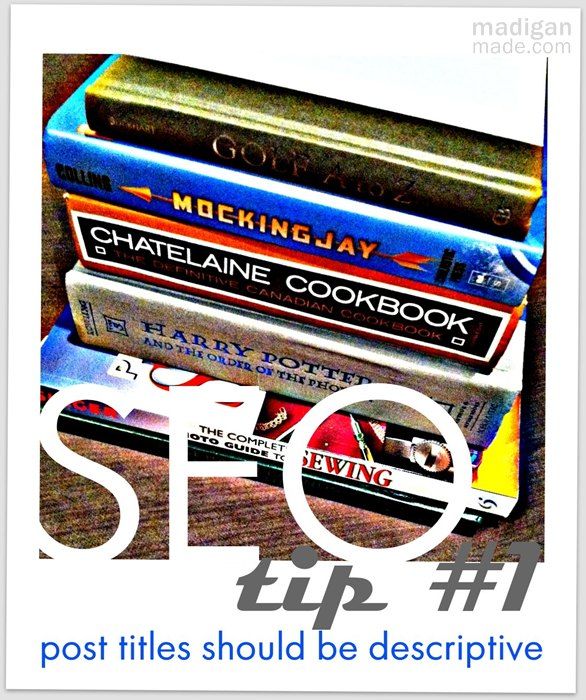 Give your blog post a title that clearly describes what is in the article. Ask yourself: What would people type in a search engine to find out more about your topic?
Say you are writing about your latest tote purse:
Good title: "How to sew a simple striped tote bag"
Bad title: "Tote-a-licious stripes!"
I know, I know. This approach kinds sucks the fun out of your title. Well, you can still let your personality shine in that first line or paragraph of the post instead. It is not as much fun as a clever title… But it will bring more cool readers to your blog. And that's fun, right?
Two. Photos - rename them for better SEO.
You know that crazy image name your camera gives your photos? Well – it sounds like gibberish to search engines.
Search engines DO 'read' the names of your photos. And Google Images is a BIG referrer for me… in part (I think) because I change the name on my photos. It's become habit for me to rename my photos as I edit them.
Good photo name: simple-striped-tote-bag-tutorial.jpg
Bad photo name: img_4590.jpg
Now, as I mentioned above, I am NOT an expert about using optimal keywords here. It is 'best practice' to try and do that for your photos. But I typically just pick words and phrases that make sense to me. I try to keep the tags simple and mix them up with different key words on each photo when I can.
Three. Tags – use them to tell search engines more about your content.
There are even more ways to tell those search engines what is in your post. You can tag certain lines of text and you can tag your photos.
Use header tags
Just like a newspaper or magazine article, you can break up your post with subtitles. Give those subtitles emphasis by tagging them. I would suggest using them sparingly and don't tag your whole post!
Example:
Good heading: "Instructions for sewing a tote bag:"
Bad heading: "Follow these steps:"
How can you create a few header tags? I'm not familiar with how to do that in Wordpress but:
-In Blogger – Highlight a line of text and use the dropdown menu to change the words from "Normal" to a "heading" or "subheading."
-In Windows LiveWriter – Highlight a line of text and change the words from "Paragraph" to Heading 3 or Heading 4 (from a style/size perspective, those are the headings I prefer).
Use alt and title tags
Did you know you can add tags to photos to share even more information about your content?
For photos, they are called 'alt' and 'title' tags. You can use keywords and phrases there, too. If you are given a blank space for a tag... Use it!!
Alt Tag Example: striped purse tutorial, easy sewn tote bag, sew a tote purse, etc.
How to set up alt and title tags (In Blogger and WLW):
-In Blogger – Click on the photo and go to "Properties." A box should pop up that allows you to fill out the title and alt tags. Fill them both out with a few descriptive, key words.
-In LiveWriter – Click on the photo and go to the "Format" tab. Under "Properties" there should be a button to click for "alt text". A box should pop up that allows you to fill out the title and alt tags. Fill them both out with some descriptive, key words.
If you have not been using these methods in your posts,
I hope you find these 3 tips helpful.
As I mentioned above, there are many, many more ways you can maximize your site for SEO. But these tactics are
great for a beginner
who wants to know where to start with SEO.
It is important to point out that "good" SEO might be moving target. Google can (and will!) change up its search engine algorithms from time to time. So, the advice you get today on SEO might not be true next year. (including this article!) Just do your best to
keep producing quality and useful content
so that when folks do find you, they want to stay awhile and visit!