Madigan made… A Bird in the Hand Art a feature!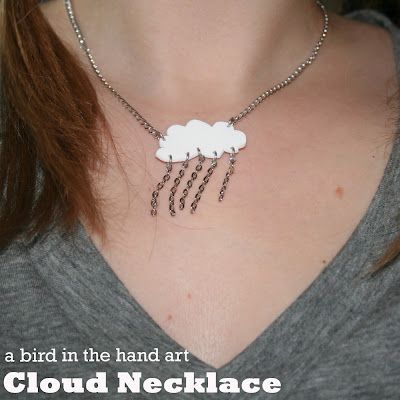 TGIF!!!
It's Friday and time for another guest project!
There is something so sweet and charming about rain clouds. Jenny from A Bird in the Hand Art created this a-dor-able
rain cloud necklace
using shrinky dink material, chain and jump rings. I love how Jenny used the chain to mimic rain drops.
Read more and find the full tutorial for the
shrinky cloud necklace
at A Bird in the Hand Art.
P.S.
I also wanted to thank you all SOO MUCH for the outpouring of support for my personal post yesterday. It means a lot and touched me more than you know. Thank you!!!
---
Want to be featured on Madigan Made?
Please don't hesitate to submit an idea!
I am ALWAYS on the look out for great ideas to feature here on a Friday.