Madigan made… a pretty painted chair with vintage fabric.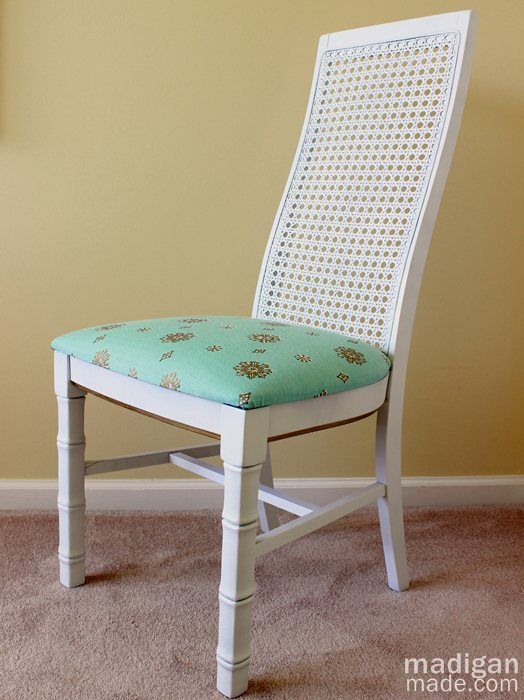 I want to thank y'all for your kind words last week when I shared the
personal background story regarding our one spare bedroom
. It was
not easy to share that struggle
and it has been hard to work on projects for this room. But while I couldn't share the post until last week, you should know that for the past month or so I did start a few things for this space.
My plans for this room are still tentative, but I hope that the room can serve
as a place for extra guests
and also
an area where I can work
on some things. (write, craft, photograph, etc) So, one thing that is going in the space is a small desk. I'll show you the desk at some point, but that desk needs a pretty chair!
I found a lonely
cane backed chair
at a thrift store ($12!) and thought it would be perfect for my desk.
Let me show you where this chair started: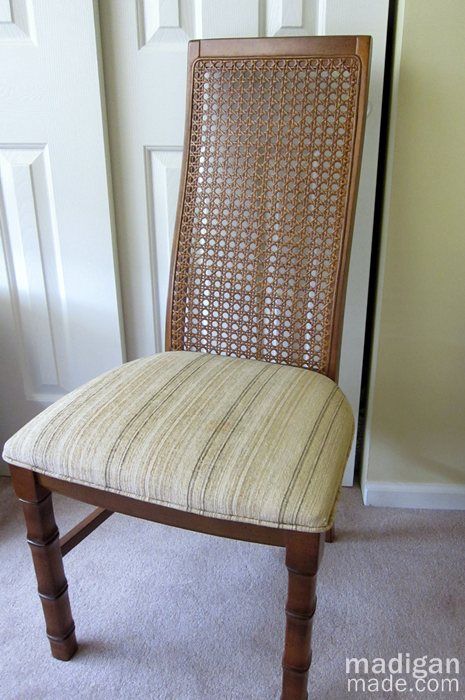 Pretty bad, huh?
I knew it just needed a little DIY love. (a.k.a. paint and fabric!)
But wait, before I go any further, can I gush a little about the upholstery fabric I chose?
I am in L-O-V-E with this fabric. I don't know if you remember, but I picked up this
vintage fabric
over a year ago after a
trip to Philadelphia's Fabric Row
.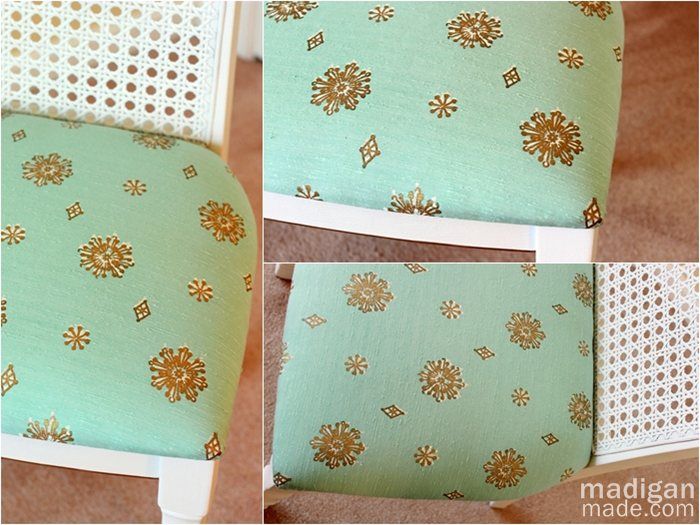 The background is a pretty shade of light turquoise with a mid-century or retro gold and white sunburst pattern on top. It seemed like the perfect fabric for a white chair!
Let me explain how I updated and painted the chair: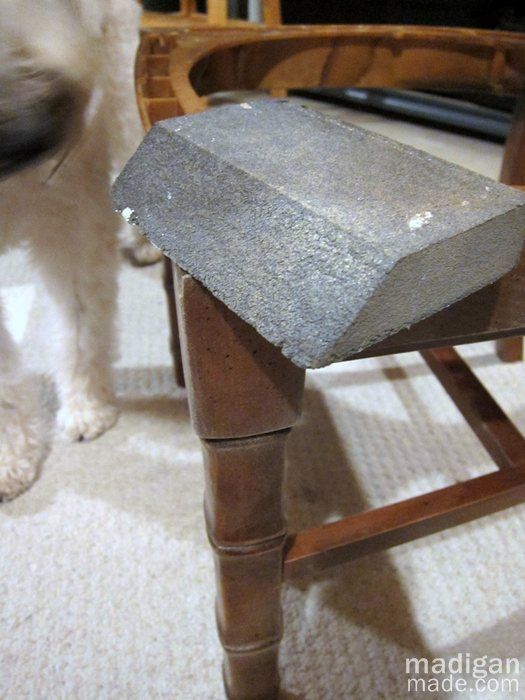 First, I removed the seat. Then I cleaned and sanded down the frame of the chair. (Ignore that furry blur… puppy was trying to help but she did not get the sanding block into every nook and cranny like I prefer, so I had to help her.)
Then, I used a clean cloth and wiped off all the dust that was generated.
To keep the legs raised up so I could fully cover the edges with spray paint, I tacked a small nail in the bottom of each leg. This also prevented the ends of the legs from sticking to the material underneath as the paint dried.
Aside from the fabric, I have a new-found love…
Krylon Dual spray paint
! It is paint and primer in one and the paint goes on smooth and evenly! For this chair, I used almost 2 cans of Krylon Dual in white in very light, multiple coats.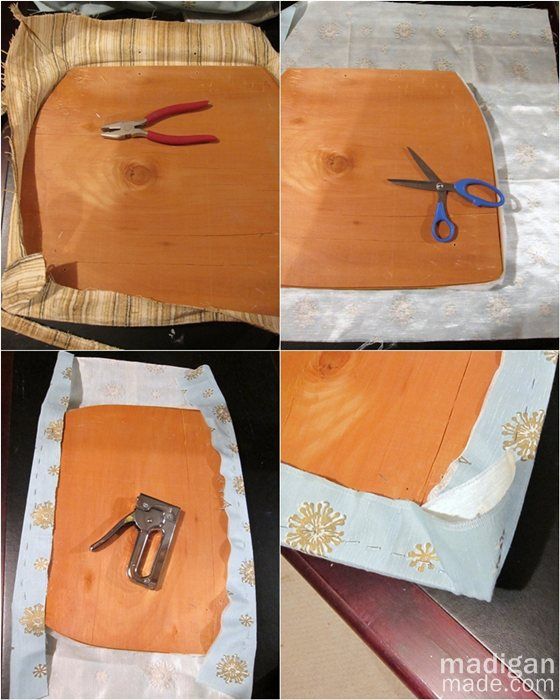 Then, to recover the seat I first removed the old upholstery. I cut a large section from my vintage blue fabric to fit around the seat.
Using a big stapler, I stapled down one side, then pulled the fabric evenly to staple down the opposite side. I repeated those steps for the remaining two sides.
I pulled and folded down the corners of the fabric like a package to secure those areas neatly with more staples.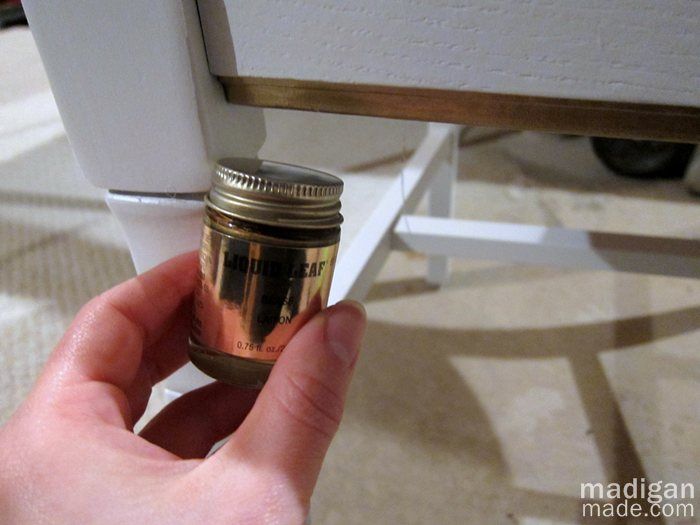 For a little, finishing touch, I added some gold leaf paint along the underside edge. It pulled out some of the gold detail in the fabric and I think the chair needed that extra touch.
I'm loving the way the chair turned out. Aside from the gorgeous fabric I put on it… it has a nice and cushy seat and supportive back.
And I love some of the chair's details… the graphic pattern of the caning and front legs that almost remind me of bamboo.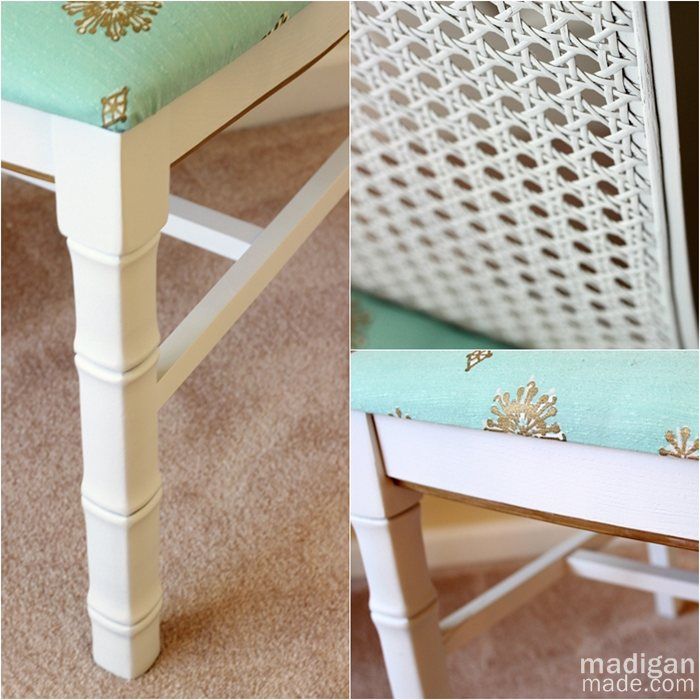 In fact, the gold detail and bamboo legs have inspired a few other elements I want to bring into this space. I can't wait to show them to you and more about this special room!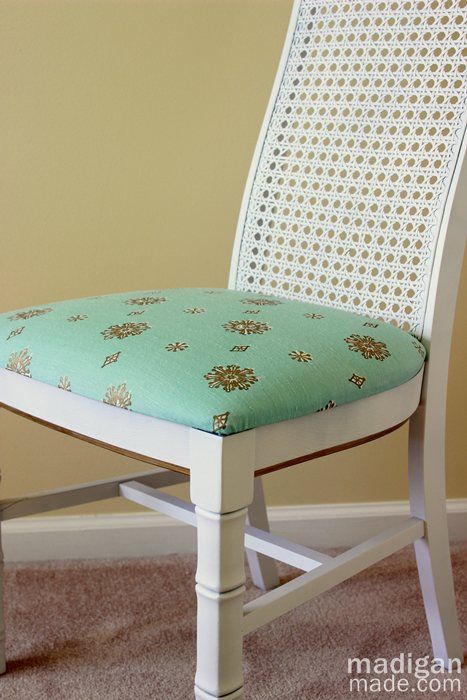 Sharing with:
Miss Mustard Seed
,
Addicted 2 Decorating
,
Thrifty Décor Chick,
Tatertots and Jello