Madigan made… an I <3 Thrifting invite!
Last July something magical happened across blogland and thrift stores/flea markets every where.
Groups of people got together on one day and shopped, laughed and celebrated the hunt for that thrifty find!
I'm talking about I <3 Thrifting Day, of course!
Rashon Carraway (aka. Mr. Goodwill Hunting) started the movement last year and I had the chance to join a group of great Philly area bloggers that July day.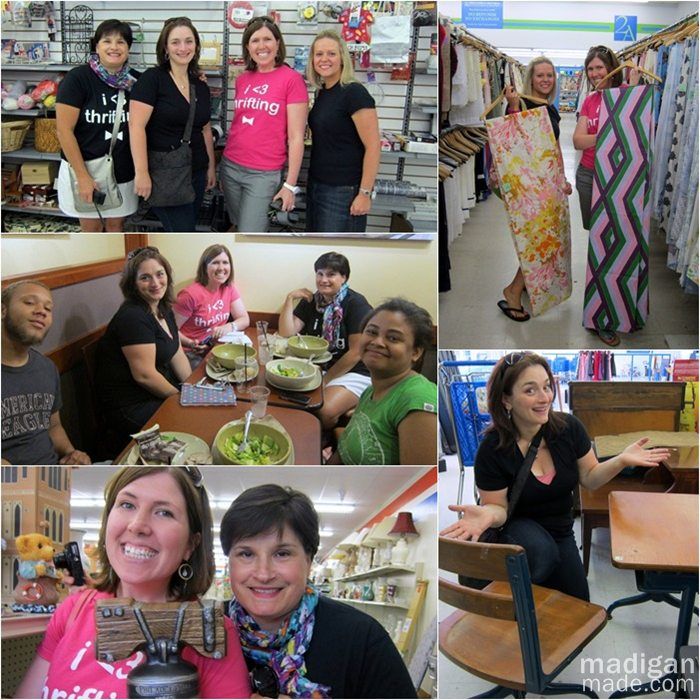 Diane, Janis, Holly, Jon'el (and her boyfriend, Carlito), me
We found some awesome deals, cool finds and new blog friends. I still remember this day as the first time I ever met other bloggers in real life! What a game changer that was for me to know that there were others out there 'just like me' in the area. You can read my full recap of Philly I <3 Thrifting 2011 here.
This year, I <3 Day is Saturday, July 7th and Diane and I are organizing a little shopping trip that day to celebrate. We'd love to have any local readers or bloggers join us!
Last year we shopped in and around the North Wales/Montgomeryville area. This time, we decided to keep things simple and follow a similar route in the Bucks-Montco area and hit our favorite thrifty stores!
The schedule that Saturday:
We will start at the 2nd Avenue Value Store in North Wales.
1200 Welsh Road (Rt. 63) • North Wales, PA
Then, we will head over to Impact Thrift Store in Montgomeryville.
979 Bethlehem Pike • Montgomeryville, PA
After that stop, anyone interested in dining out for lunch can join us at the Village Tavern (very close to Impact).
511 Stump Road • North Wales, PA
And then if y'all still wants to keep shopping after eating, we can head up to the ReStore in Chalfont!
31 Oak Avenue • Chalfont, PA
Do you live in or around the Philadelphia area and love thrifting?
Please leave a comment OR contact Diane or me for more details if you were interested in joining us that day!
(email me at: madiganmade @ gmail .com)