Madigan made… a DIY lampshade and lamp makeover.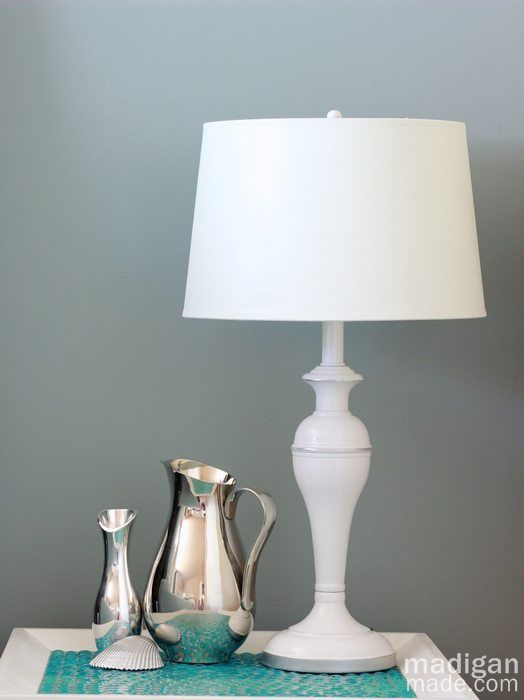 Aaahh… paint. My favorite 'tool'.
Today I'm going to show you another example of the power of paint.
Earlier this month I showed you my DIY table update with tiled glass gems. I promised to share the lamp makeover, too. It is not an exciting, breakthrough idea… I just updated my old brown lamps with some fresh and light paint. But the before and after are pretty dramatic:
To update these lamps, I cleaned the metal surfaces and wrapped the cord and socket area with plastic. I took the lamps outside to my special spray paint stump station. Then, I sprayed each base with multiple, thin, frequent coats of a white gloss spray paint.
After the spray paint dried and cured for a couple days, I applied a little silver rub'n'buff over some of the base and other raised area. When you apply that stuff, I find it is best to just use your finger and do so sparingly. A little goes a long way!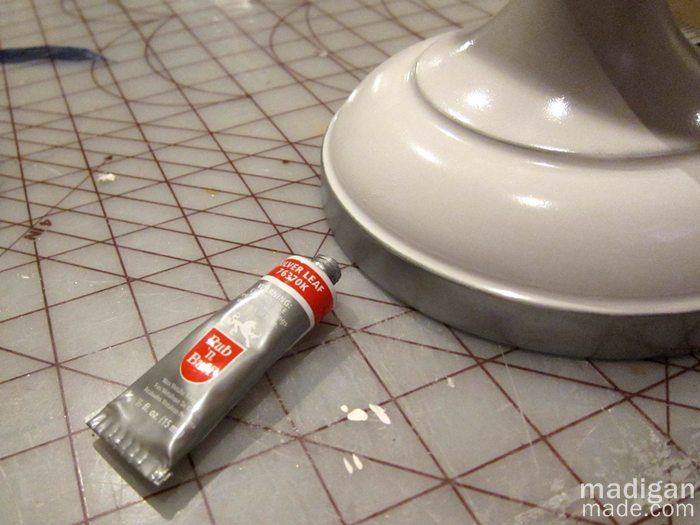 Finally, I noticed that the lamp shades were a cream linen color and that clashed with the bright white table and lamp base. So, for some subtle contrast, I decided to paint the shades.
Can you paint lampshades? Yes, you can!
I've seen shades spray painted… but I chose to paint mine with a brush using glossy, latex paint. I applied two coats. The paint color I used was "Glimmer" from Glidden. It was a light shade of sea foam. I used the same color under the glass gems on the table surface below. The soft blue-green was pretty against the darker blue walls behind our bed.
Here's the lamp and pretty DIY table on my side of the bed, too.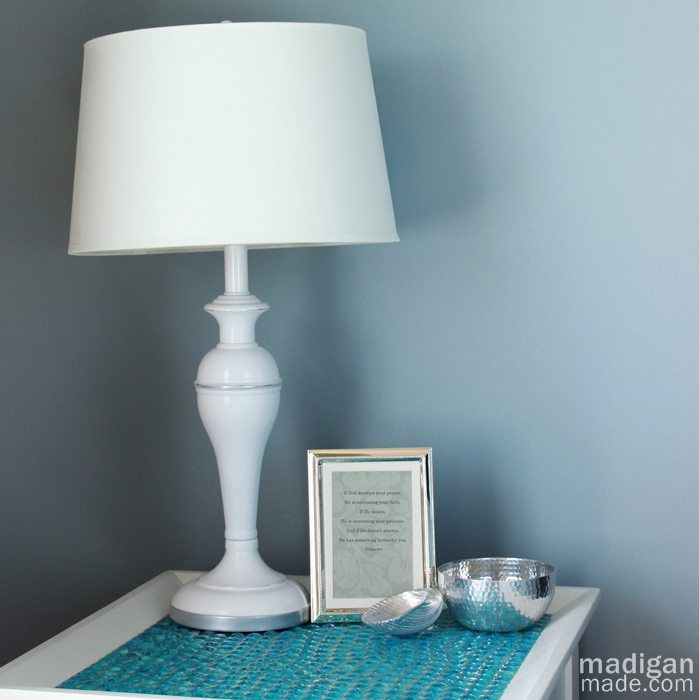 Isn't paint fabulous? It is inexpensive, easy and it can do sooo many things to bright up a space!
I'm sharing this post with:
House of Hepworths, Tatertots and Jello, Today's Creative Blog
And, if you liked this project, be sure to check out my other Simple DIY Decorating Ideas: