Madigan made… a Crafting in Neon Week recap.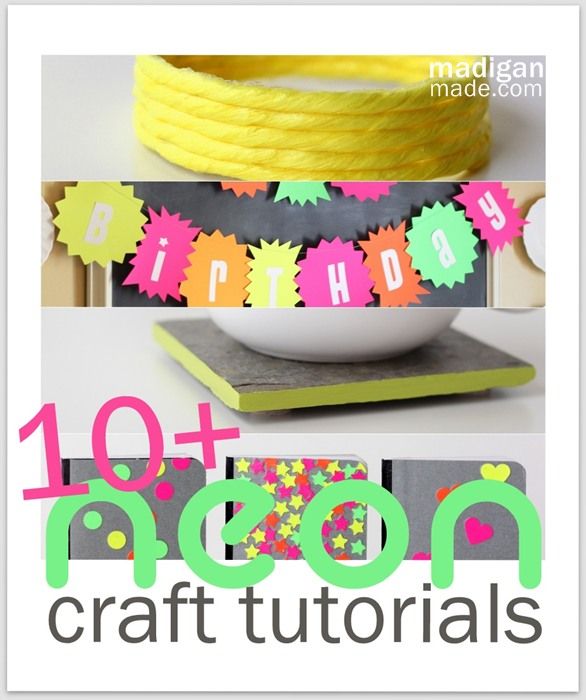 OK. After you read this post, it is safe for you to remove your sunglasses.
Crafting in Neon Week is officially over today.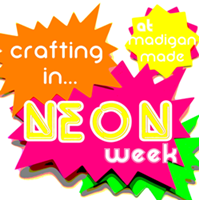 Whew. I just shared over ten simple, neon craft projects this past week.
This week flew by fast… did you miss any of the bright and colorful crafts?
Well, if you want to go back to the beginning of the week and read them all, you can start with the neon week intro post.
OR, just check out the list below of 10+ neon crafts. They are all simple and quick ideas that you can make to add a little neon in your life!
Easy and Simple Crafts in Neon Colors:
Click on each photo to be taken to the project.
I'm so glad I organized this week and I'm a little sad that it is over. :(
My mom asked me why I decided to put this theme week together… and I thought that you might have the same question. First, I thought neon projects would be fun for the summer. I also hoped it would help me stay focused and avoid a blog slump like last summer. Finally, I wanted to challenge myself crafting AND blogging. And in the end, I learned a lot about myself as a crafter and blogger in the process.
What did I learn during Neon Week?
Well, planning and preparation for an in-depth themed week is key. I should tell you that I've been planning this week and the projects for months…. While the crafts were simple to execute, there is no way that I could whip up all of these projects and tutorials without planning far in advance.
I learned that posting every day, twice a day is very difficult. I have no idea how some bloggers do it on a regular basis. I will not be posting this frequently anytime soon!
This may or may not make sense to you, but focusing on a theme and limiting the scope of my projects actually forced me to be more creative. I guarantee that I would not have come up with half these crafts if I was not driven to do so by the materials and colors.
Photographing neon objects is NOT easy! All of the materials I worked with this week were loud and bright. But if your camera's white balance is off or the lighting is not right, the colors can easily look too dull or too glaring.
I love neon. Like, really love it now. If you follow me on Instagram or Facebook, then you know I painted my toenails neon pink… partly in honor of this week! Lately, when I'm out shopping I gravitate to bright and colorful materials. I want to buy it and make something fun with it. That was the danger of planning a theme week so far in advance… I kept thinking up projects to make! That's how I ended up with ten projects… plus I still have a few more ideas in my head. So, you might see more neon from me in the future! You've been warned!
I hope you enjoyed this week of glowing, bright color! I really enjoyed putting it together!
I'll be sharing this post at: Tatertots and Jello, Serenity Now, Positively Splendid