Madigan made… a vase from neon bamboo and dry wall tape.
Crafting in Neon Week continues… and this time I'm sharing a neon home accessory idea with more dry wall tape. (earlier today I showed you a neon dry wall tape greeting card)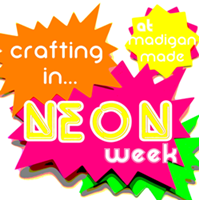 Did you ever have a craft that was just meant to be? Where all the parts seemed to line up and fit perfectly?
Well, you need to know the story of this bright bamboo vase…
One day I was shopping in the dollar store (Yes, I know you all must be shocked! Haha!) and I found these neon green plastic straws in the luau party section. I loved the bright color and thought they'd look cute wrapped around something. So, I headed over to the glassware section of the store and found tall vases that were the perfect height to match the straws. It was meant to be!
I got home and planned to wrap jute or twine around the bamboo to secure it… but then I remembered I had this bright yellow dry wall tape. Bingo!! The tape had the perfect texture to compliment the bamboo and was a fun way to accentuate the neon color even more.
Let me show you how to make this easy neon vase…
Instructions for making a neon green bamboo vase:
Supplies needed:
Colored dry wall tape
Scissors & rubber bands
2 tall, glass vases
6 packs of plastic bamboo straws
Hot glue gun & glue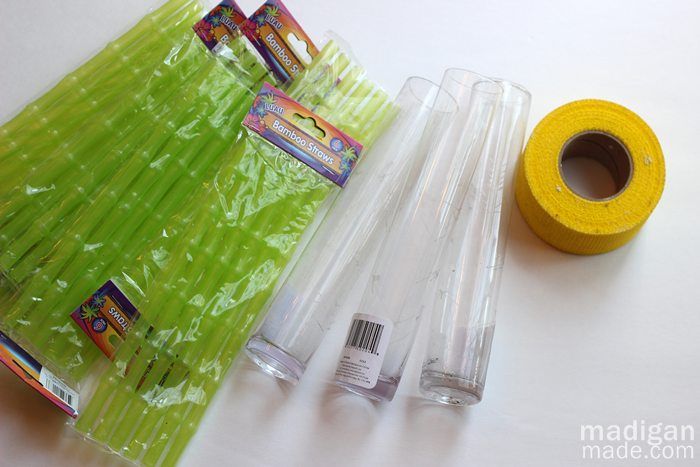 Step one:
Arrange the straws around the vase to completely cover it. I used 15 straws for each vase. Tip: Use rubber bands to hold them upright until you can secure them with the tape.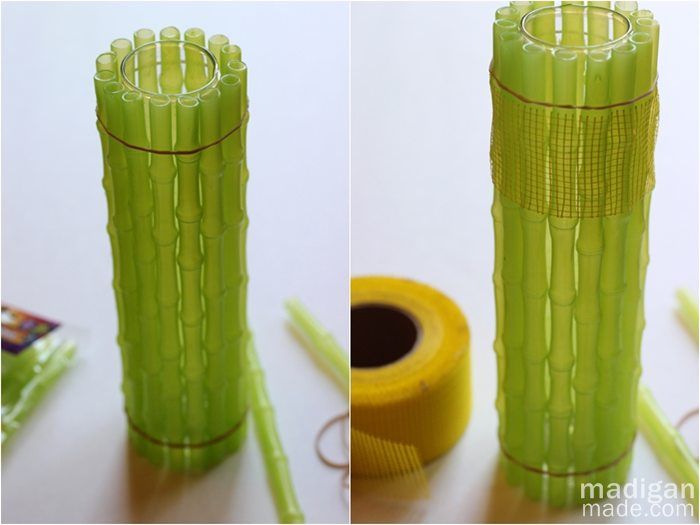 Step two:
Wrap drywall tape tightly around the bamboo at the top and bottom of the straws. Allow about 1" overlap with the tape and trim it to length.
Step three:
Add a small dollop of hot glue to secure the tape where it overlaps and ensure that it stays closed.
Warning: I did NOT glue the bamboo straws directly to the glass. They act almost like a 'sleeve' over the glass and the vase could slip out. I did this intentionally so that I can change the vase when I want. The dry wall tape is sticky and will hold the straws together. But be VERY careful moving the bamboo sleeved vase and support the bottom of the glass when you do. If you wanted to ensure the glass did not move or break, I would suggest gluing the straws directly to the glass.
Once the vases were made, I cut some of the flowers off our coral bell plants for a floral arrangement. The green and pink colors were a pretty contrast, but I think I'd prefer white flowers next time.
These vases were so easy to create. They are a fun, colorful home accessory to use this summer. I love that they look great outside with our bright green outdoor furniture, too!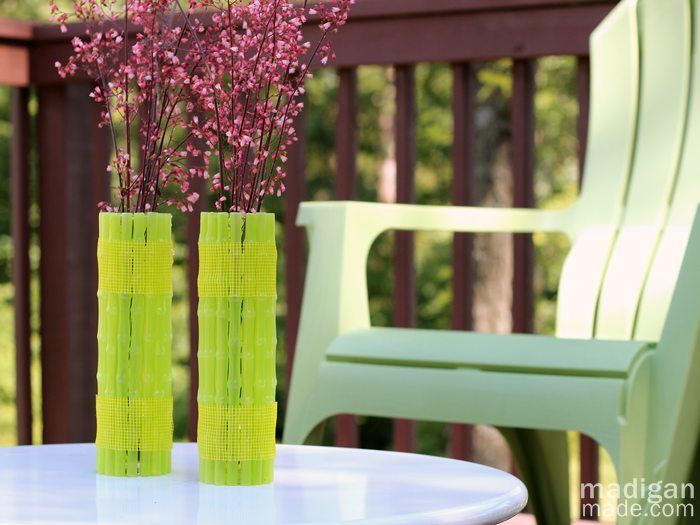 Don't forget to come back tomorrow for more simple DIY neon ideas. You can also follow the hash tag #craftinneon on Twitter so you don't miss any updates.
I'm sharing this post with: Home Stories A2Z, Addicted 2 Decorating, Under the Table and Dreaming
P.S. Remember… I want to show off YOUR Neon projects on Friday. (Read this post to find out how to share your idea!)