Madigan made… bright & simple handmade greeting cards.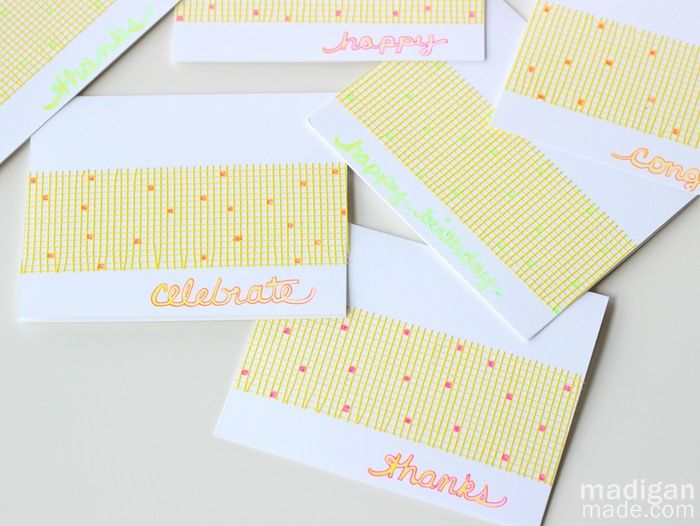 Are you ready for easy & modern crafts in neon colors?
Crafting in Neon Week starts now… and our first project is a simple one. Let me show you how to make handmade cards without stamps or fancy craft supplies!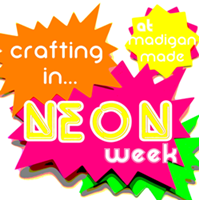 I picked up some bright yellow dry wall tape for 50 cents when I was out thrifting this past spring. I was drawn to the bright color, but also to the texture.
I've used dry wall tape on wreaths before. It works almost like a thin, sticky ribbon. And I thought this yellow tape could act as some kind of ribbon on a package or on a card. After playing around with a few variations, these cards ended up being my favorite. The best part? You do not need a fancy cutting machine, loads of stamps or cool gadgets to make them.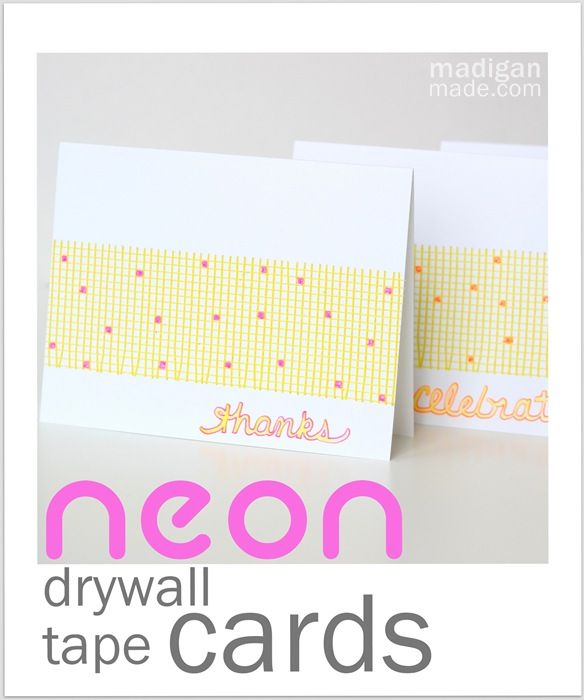 Instructions to make homemade greeting cards with neon tape:
Supplies needed:
Colored dry wall tape
Highlighter marker
Gel pens in bright colors
Scissors
White 8.5 x11 card stock, several pieces
Step one: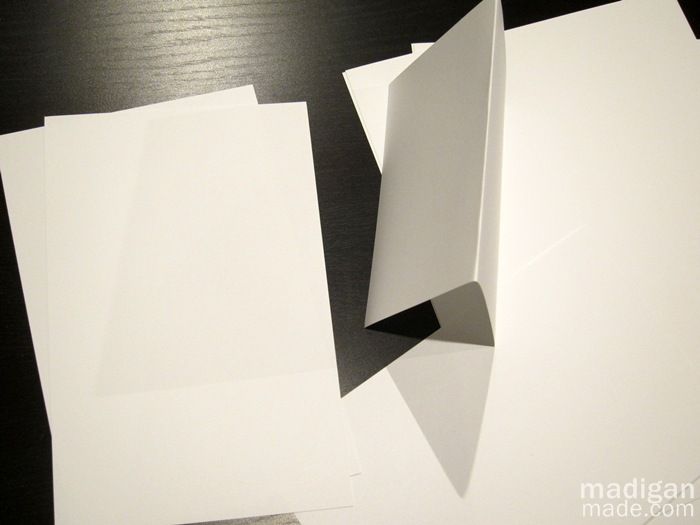 Cut the card stock sheets down the center and fold each piece in half to create a small card that will be 4.25" x 5.5".
Step two:

Use the highlighter to write a word or saying in one of the lower corners.
Step three:
Carefully trace the marker area using gel pens and outline all of the lettering.
Step four:
Apply a strip of dry wall tape across the card. Trim the edges of the tape flush with the card using scissors.
Step five:
Using the gel pens, color in random blocks within the holes of the dry wall tape. Each card will fit in an invitation sized envelope that you can easily find at any office supply store.
Send them to family and friends and tell them that you made these modern neon cards.
The fun thing about these cards is that every time you make them, they will turn out different. It all depends on where you write the words or fill in the squares. And everyone will have their own writing style, making the cards even more personal.
I've told you before that I kind of hate my handwriting. I try my best when I write a new quote every month on my chalkboard. But, let's face it, my penmanship is sort of sloppy. On the flip side, that quality adds a little charm to the card, don't you think?
Either way… I'm planning to make more of these cards. They were so cute and so easy! (and I have lots of tape leftover, too!)
Want to know what else you can craft with yellow dry wall tape? Come back later today for a simple neon home accessory idea!
Remember… it is ALL neon! ALL simple! ALL week!
I'm sharing this post with Today's Creative Blog, C.R.A.F.T. and Flamingo Toes
P.S. Don't forget that I want to show off YOUR Neon projects on Friday. (Read this post to find out how to share your craft!)
P.P.S. If you are on Twitter, you can follow the hash tag #craftinneon to keep track of all the projects shared during this busy week. This is the first time I ever created a hash tag to use regularly. I feel so cool. (… or maybe I feel a little out of touch for not using them sooner?)