Madigan made… a mini #IcedDelight coffee dessert drink.
Hubby and I have a love/hate relationship with the summer. We love being able to enjoy the outdoors, but we hate it when it gets so hot that it is uncomfortable to be out. We've been in the midst of hot weather this month and there is no end in sight. Ugh.
As a result, we are always looking for ways to cool down. And we are big fans of cool and frosty drinks. And… we also love homemade coffee and flavored coffee creamers, too! But in the hot weather sometimes a cup of coffee is just too much… that's why we love iced coffee. And ever since we started to see commercials for International Delight's new iced coffee, my hubby's been saying, "We should try that!"
So when I had the opportunity, I headed over to Wal-Mart and picked up a carton of the iced coffee. There were three different flavors available and I grabbed a container of mocha coffee.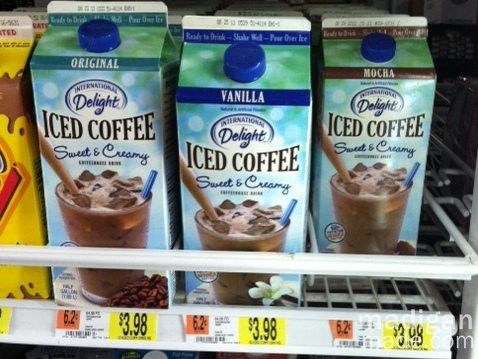 Did you know that International Delight also has some awesome flavored coffee creamers… many inspired by candy bars?
Yup, candy. bars.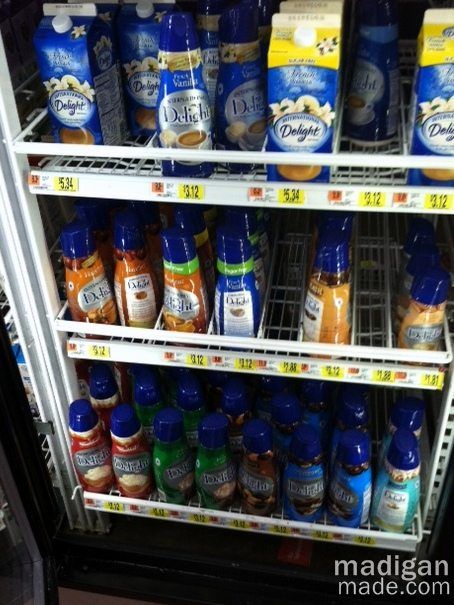 I looove their Almond Joy flavor (I'm crazy for coconut, remember?) but I was enticed by the Heath Bar creamer flavor that day at Wal-Mart.
Now, I have to say that the iced coffee is darn good by itself, but I thought it would be fun to amp things up and make a cool dessert drink. We had chocolate ice cream in the freezer, so my immediate thought was, mmm… milkshake! And let's "gild the lily" a little more by adding toffee candy bar flavor, too!
I knew this was going to be a rich mocha drink and tiny milkshakes seemed right. I had loads of little shot glasses leftover from my mini cheesecakes and the glasses were perfect for serving cute mini drinks, too.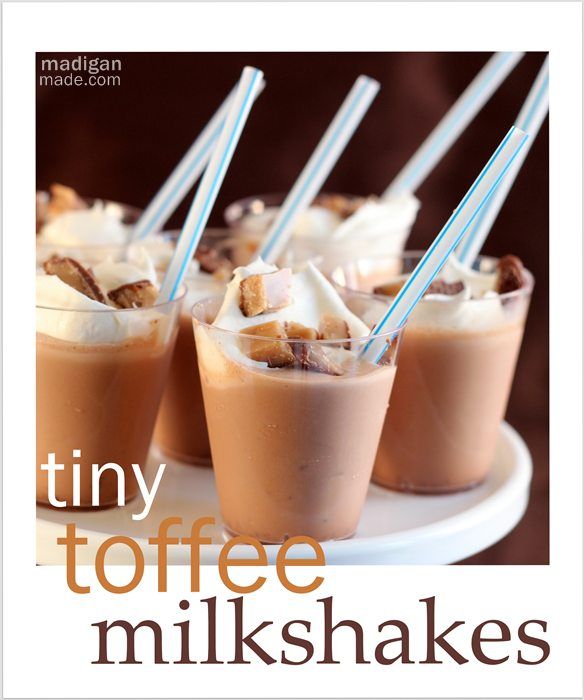 Mini Coffee and Ice Cream #IcedDelight Milkshakes:
Ingredients:
2 scoops chocolate ice cream
4 oz. (approx.) of International Delight Iced Coffee (Mocha)
1 Heath bar, chopped and divided in half
1 tbsp. Heath Bar Flavored International Delight Coffee Creamer
1/2 cup (approx.) frozen whipped topping, thawed
2 oz. mini shot glasses
Straws
Prep: Trim the straws down to about 4 inches in length with a pair of scissors.
Chop: Cut up the candy bar and reserve 1/2 for topping.
Whip: Mix together the coffee creamer and whipped topping to add a little toffee flavor to the topping.
Blend: Using a blender, whip up the ice cream with iced coffee to desired consistency. Add more or less ice cream as needed. Blend in 1/2 of the chopped candy bar, too.
Assemble: Fill each shot glass with the milkshake mixture. Top with a dollop of whipped topping. Sprinkle with candy pieces and add a straw. Enjoy!
Makes approximately 8 mini milkshakes.
These little frozen cuties were sooo tasty and they were a cool way to enjoy our coffee in this heat wave.
And I'll be honest, it was hard to just have one. (wink!)
I'll be sharing this post at:
Tatertots and Jello, Tidy Mom and Positively Splendid
For more coffee drink and recipe inspiration, be sure to follow International Delight on Twitter or International Delight on Facebook. Love iced coffee? Join the @InDelight #IcedDelight Twitter Party 7/12 @1PM EDT! RSVP here. Check out their sweepstakes, too!
---
I am a member of the Collective Bias™ Social Fabric® Community. This shop has been compensated as part of a social shopper insights study for Collective Bias™ and International Delight. #IcedDelight #CBias #SocialFabric All opinions are my own.