Madigan made… tie dye and dip dye fabric projects.
Lately, I've been in an experimenting, crafty mood. Sometimes, you just HAVE to try something to see if it turns out OK, right? Well, dying fabric falls into that 'experimental' area for me. I've only dyed a few projects… and with fabric dye, there is often a huge 'unknown' when it comes to your end result. Who knows if the dye will take on that medium or if your technique will turn out OK?
I've been using up that huge tie-dye fabric kit I was sent this spring (that I originally used to make a tie-dye necklace, if you remember). I already tried dying wood clothespins… so I thought I'd also use the leftover dye packets and breathe some life into my old and worn clothes, too.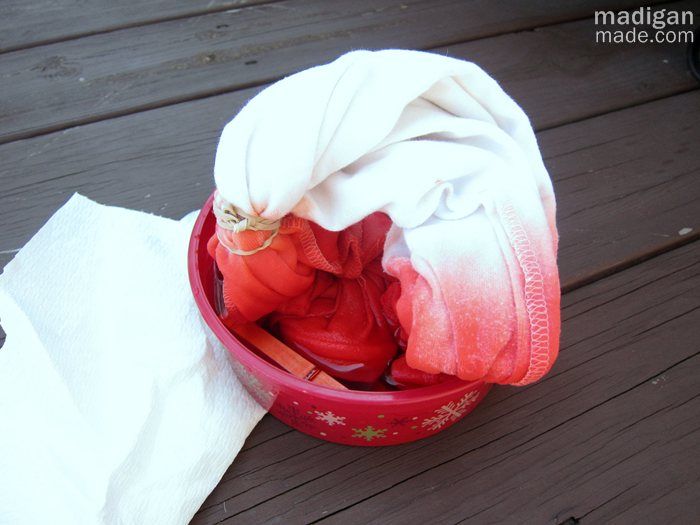 When I was making my dyed clothespins, I needed something to hold the wood pieces down in the water. I figured that it would be a shame to waste the dye. So, I grabbed an old, white t-shirt and twisted and dipped the ends into the orange-colored water. The fabric was only dipped in the water for about 3 hours, but it was enough to turn sections of the shirt a pretty, pale peach color.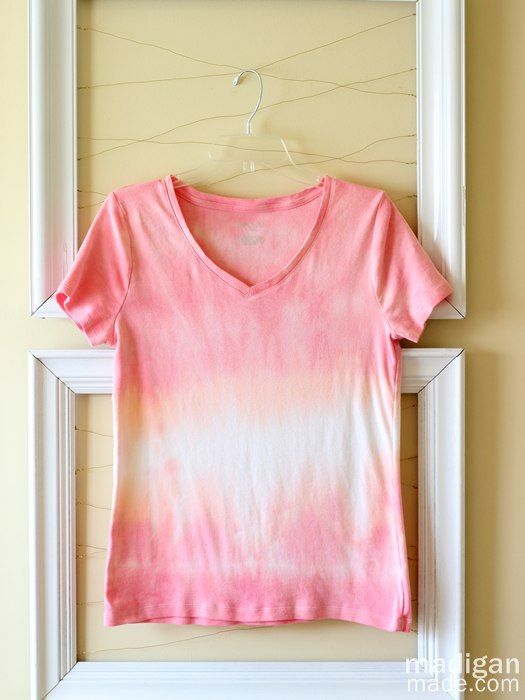 I also had this old, white, cotton, broomstick-style skirt. I thought it might be fun to add a little color-blocking dye to the edges. So, I pleated and tied the ends and dyed the edges of the fabric with a blue tie-dye color.
The blue dye ended up looking more purple (I had hoped for a true navy). But the edges of the dye spread and turned turquoise as it approached the white, un-dyed areas. It ended up looking like an ombre effect. Trendy, eh?
I need to roll up the band of this skirt so the garment does not look so 'hippie'… but this skirt is very comfy and cute to wear.
Please don't let the pasty-white legs scare you. They don't bite. Promise.
As I was trying to find a way to show you these garments, I also realized that my new, open, wire frame memo board was a fun way to display some of my finished, dyed crafts. Count on me using these memo boards to show off more of my creations!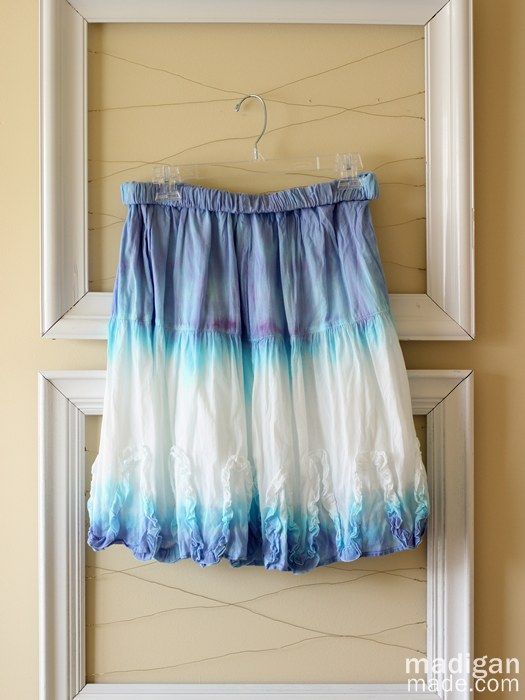 So, am I the only one who likes to experiment with their craft supplies? Working with fabric dye is kinda risky, but fun. I live on the edge, right? Yeah, I'm laughing right there with you (in my new, cute ombre dyed clothes!).
I'm sharing this post at Tatertots and Jello.