Madigan made… no-sew, durable placemats decorated with vinyl.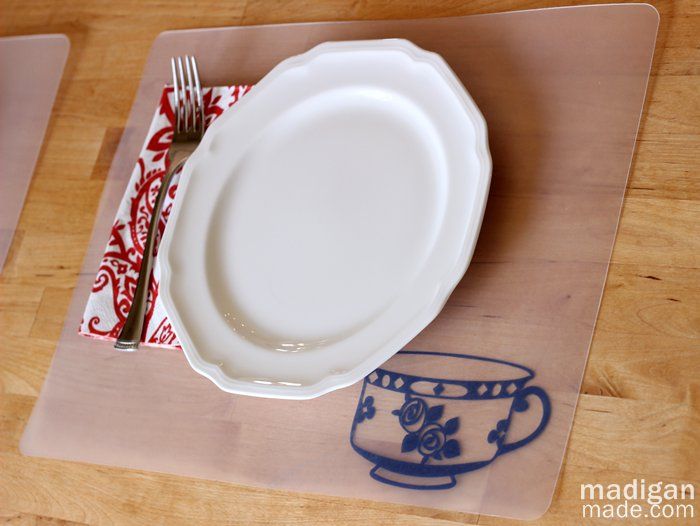 Have you ever had an 'a ha' moment about a crafty solution? You know, when that little light bulb goes off and you wonder, why didn't I think about that before?
Well, it happened this past June when my hubby and I had his parents over for dinner. We ate outside and used my decoupaged plastic chopping mat placemats. (Remember them from last summer?)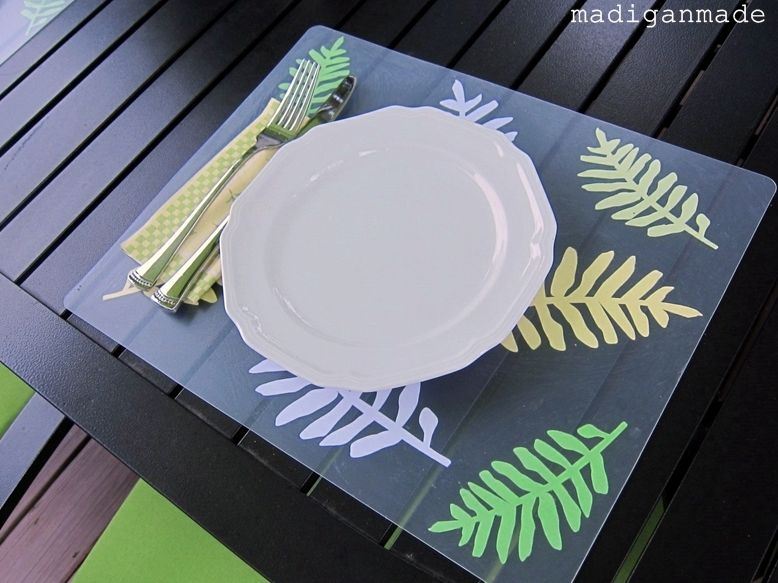 My mother-in-law loved the leafy placemats. We chatted about how I unfortunately already lost 2 of the 6 mats I made. The mats were ok to wipe down, but the decoupage on two of them became goopy when they got soaking wet. (It was my fault. I used Satin Mod Podge and did not seal them with an acrylic spray. I probably should've used the outdoor MP formula.)
My MIL asked about using stickers or paint instead… and THAT was when the lightening struck.
Why not use vinyl?! It is a plastic and already waterproof! We both sat there smiling, because we knew that was the solution.
So, for my mother-in-law's birthday, I recently made her a set of plastic placemats with navy vinyl, cut in the shape of delicate tea cups. (She loves tea and the color blue.)
I found a bunch of plastic chopping mats (2 per pack) at the dollar store. I fired up my crafty cutting machine and cut out several tea cup shapes in blue vinyl. I carefully removed the excess vinyl around the shapes (tweezers help!). Then, I used transfer paper and placed the shape in one lower corner of each mat. I burnished the vinyl down with plastic scraper and then peeled back the transfer paper to reveal my prettied up 'placemat'!
So simple! (and so waterproof!)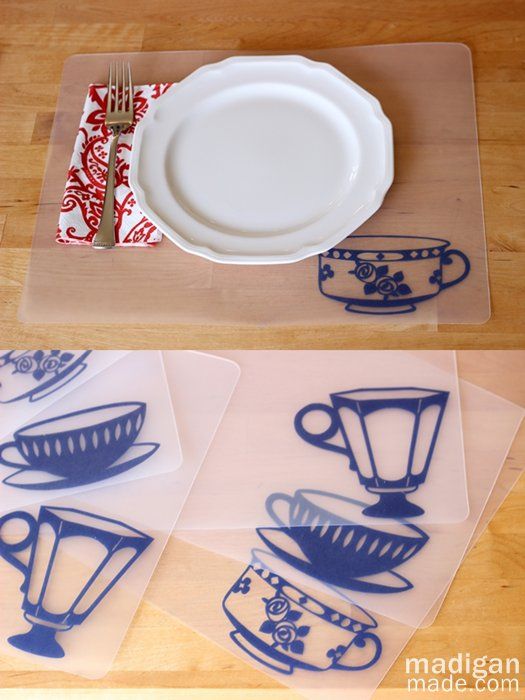 I love how the blue tea cup silhouette contrasts with the sheer, white color of the plastic mat.
Pretty!
I want to make a set for myself soon… maybe with doily shapes? Or with leaves? Or maybe snowflakes?
Gosh, the options are limitless!
Sometimes the solution to a crafty problem is so simple. It helps to talk it out with other people and, if you are lucky, that inspiration light bulb will go off!