This is a Sponsored post written by me on behalf of Popcorn, Indiana for SocialSpark. All opinions are 100% mine.
Madigan made… easy ideas for football watching and entertaining.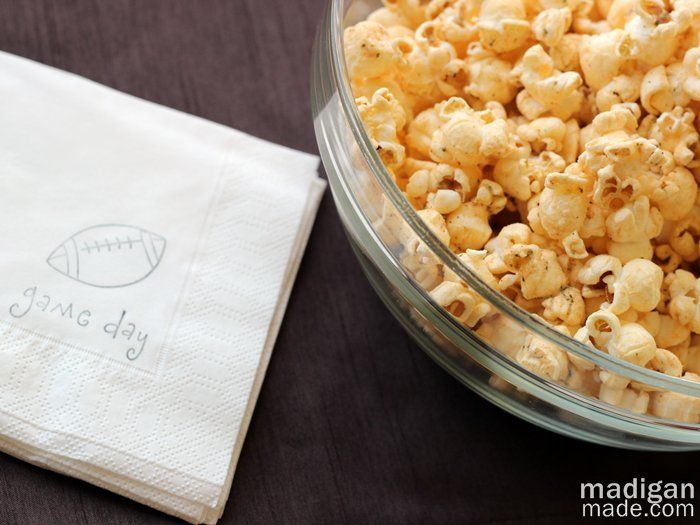 What does fall entertaining and TV mean to your family?
For us, fall means cool weather, warm food and football watching. (Especially for my hubby!) Some weekends we get together with family or friends over to watch the game. Some nights it is just the two of us. (Hubs, watching football. Me, crafting a little in front of the TV.)
I don't know what happens in your house, but when we watch football, food is a major player in the experience. And like everything else in our house… we like to keep that simple.
This past Monday night, my husband and I had the opportunity to try these Bacon Ranch flavored Popcorn, Indiana snacks while watching a little football. (Seattle vs. Green Bay) I fell asleep before the dramatic end to the game but I made sure to enjoy the snacking!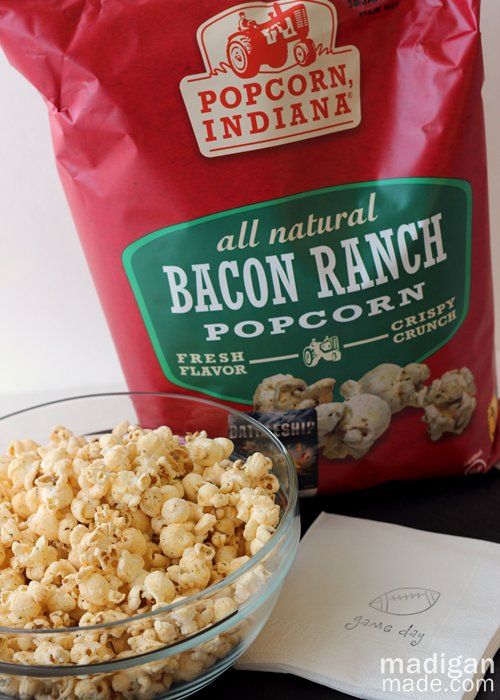 Popcorn is one of those simple snacks that is perfect for watching TV. Compared to dips and spreads, it is so easy to serve and eat. Just grab a handful! Yum!
My hubby loved the idea of bacon and ranch together on the popcorn. And I was impressed that the Popcorn, Indiana snack is made with all-natural flavors and no preservatives. I found that the popcorn was light and crunchy and the smoky flavor was enjoyable.
I'd love to try Popcorn, Indiana's other flavors. Cinnamon or Kettle Corn are bound to be favorites of mine (Y'all know about my sweet tooth!). I'm always looking for simple snack ideas for entertaining and I definitely need to serve more popcorn this fall!
We are looking forward to more football watching this season (and we are crossing our finger that our Philly Eagles get it together!) and popcorn will make a great snack to serve at parties.
When we entertain at home for football games, I try to keep everything simple. Cool drinks. Easy dishes. Simple snacks. Sometimes I'll make a big pot of chili. But more often than not, we just order pizza or cheesesteaks and have a couple of simple snacks (like popcorn!). That is all we need.
And if I'm feeling 'fancy'… I'll use some football themed paper goods. But sometimes – we don't always have specialty napkins or plates. So, I'll just make my own! (Shocker, I know.)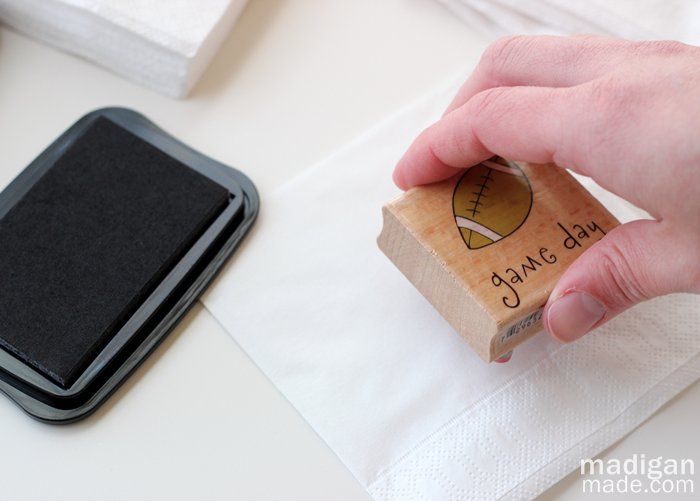 I just use a cute, themed stamp, stamp pad and plain napkins. Instant and personalized party décor that goes with the simple food! If the stamp is small, you could stamp your paper cups, too! (Ooh, paper cups would be a great way to serve up popcorn, too!)
How about you? Does your family have food or entertaining traditions when it comes to fall and football? Do you have big, elaborate spreads or do you like to keep your snacking low-key and simple?
Want to try Popcorn, Indiana yourself? You can save $0.55 on any Family Size bag (any flavor) of Popcorn, Indiana products.