Madigan made… "reverse" cranberry cut crystal.
I don't know about you, but I'm not a huge fan of cut crystal. Cut crystal is intricate, delicate and busy… and not really my style. I mentioned this to you when I painted a bunch of it for a wedding shower centerpiece last year. Using a solid matte spray paint for the vases made the crystal appear more modern.
But despite my misgiving about cut crystal, I've been eyeing some pieces at the thrift store lately and wondering what would happen if I filled in the cut areas? (Yes, these are the things that go through my head in the shower some mornings!) Could you fill the gaps with clay or something? Would that create a pattern within the cut areas? Maybe it would look a little like fretwork or a grid?
I picked up these pieces of cut glass recently when I was antique/thrift shopping with my mom in September. I explained my idea to my mom and instead of clay, she suggested I try paint.
So, the glass painting experiment began! I used red paint because I was hoping that the resulting effect would look the opposite of cut crystal cranberry glass. (You can see an example of cut cranberry crystal here to get an idea of what I mean.) I think it achieved the look I was intending.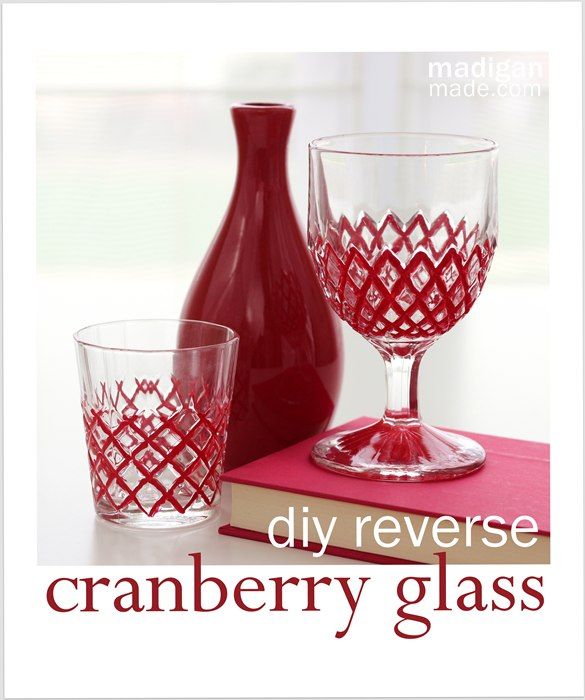 How to paint cut crystal in a modern way:
Supplies:
Cut crystal pieces

Glass paint

Isopropyl alcohol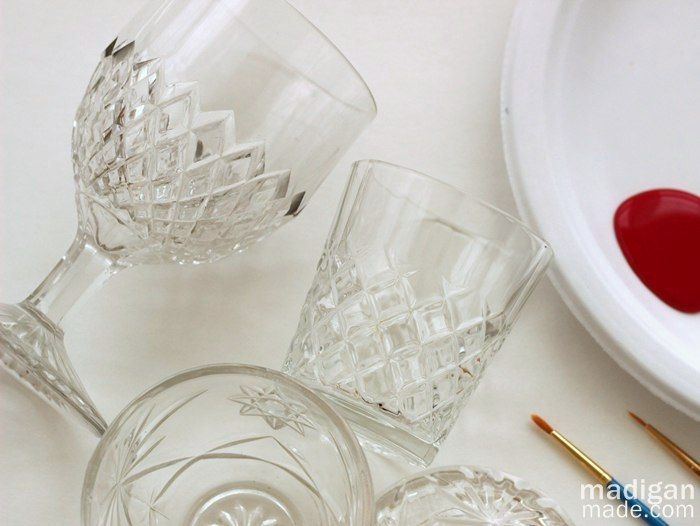 First, I cleaned my glass pieces really well. I popped mine in the dishwasher and then cleaned the glass with alcohol right before I was about to paint.
I painted inside the cut grooves of the glass using glass paint. At first I tried to apply the glass paint with a thin brush. I found I had better control by using a different glass paint that had a pointy tip applicator. That paint was also very thick, which made it easier to work with, too.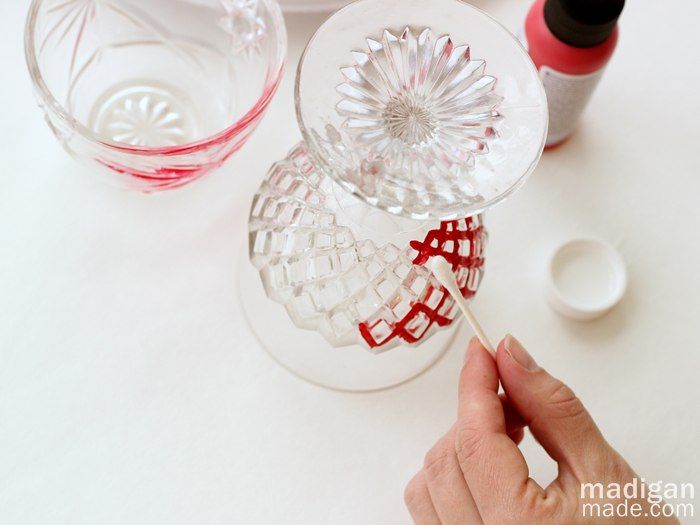 As I painted, I cleaned up any mistakes with a cotton swab dipped in the alcohol.
I repeated the process on the other small glass piece I had, too.
I allowed the glass paint to dry for several days and then baked the pieces in the oven on a cookie sheet, per the manufacturer's instructions. That will improve the durability of the paint.
I love the geometric effect that the red paint creates on the glassware. Because the paint color was opaque, the graphic pattern stands out and it is very bold. It definitely reminds me a little of fretwork or cranberry glass.
I've been experimenting with this painting technique on other glass pieces using translucent paint and the effect is more subtle. I'll show you those ideas soon.
But with the holidays coming up, I'm anxious to incorporate this bold red glassware into my Christmas décor. IMaybe next to my milk glass trees?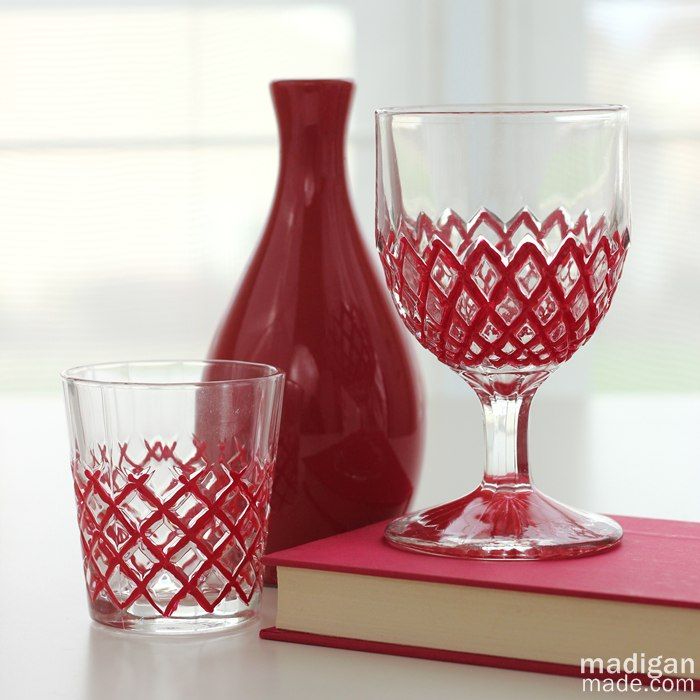 Note: I was given some of the supplies I used in this craft for a prior post/project. All opinions and ideas are my own.