Madigan made… a simple way to decorate with wreaths.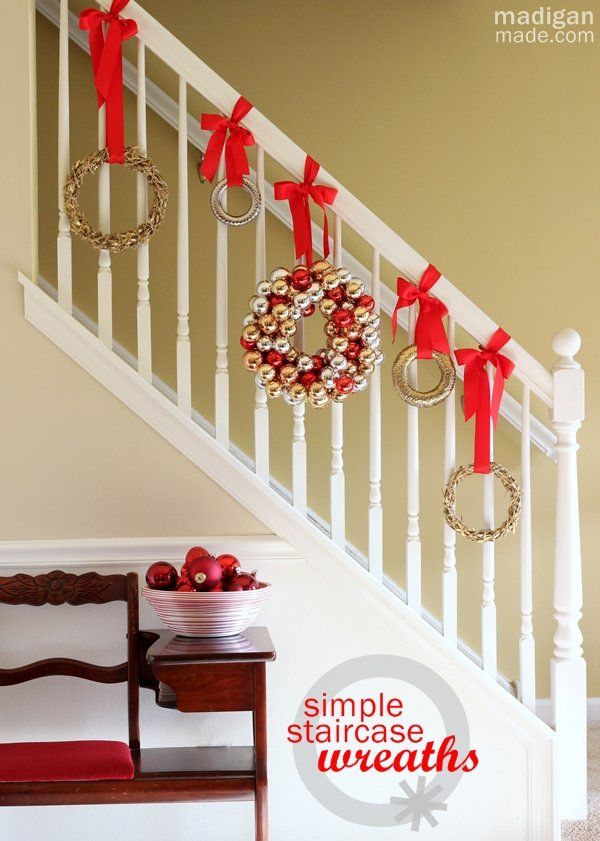 I love evergreen garland. I do. But the real stuff dries out quickly and sheds needles. And the fake stuff looks… just OK.
Last Christmas, I hung our stockings on our staircase banister. This year our tree is in another room and the area needed some 'impact' besides stockings. But I did not feel like decorating our staircase banister with faux garland this year.
I wanted to do something simple and different with our staircase holiday decor.
To do this, all I did was hang a bunch of wreaths at staggering heights down the staircase with wide grosgrain ribbon. (Did I ever tell you I love grosgrain? No? Well, I do!)
My ornament wreath from years past was the central focus of this display. Two of my new gold garland wreaths hang on either end. The gold thumbtack wreath I made last fall complements all of the gold accents. And that little silver wreath is not even a wreath… it is a circular frame from the dollar store that I took from my foyer gallery wall. It works with all of the silvers and golds in my ornament wreath.
I recovered the gossip bench below the stairs with a new red seat cover. A big bowl of red ornaments just seemed right on the bench.
I love the simplicity of my staircase wreaths. They certainly are less itchy than greens or garland… and still deliver a lot of holiday spirit and impact!
How about you… do you decorate your staircase for the holidays? Do you use garland or something else? I'd love to hear more ideas!