Madigan made… an elegant wreath craft from gold garland.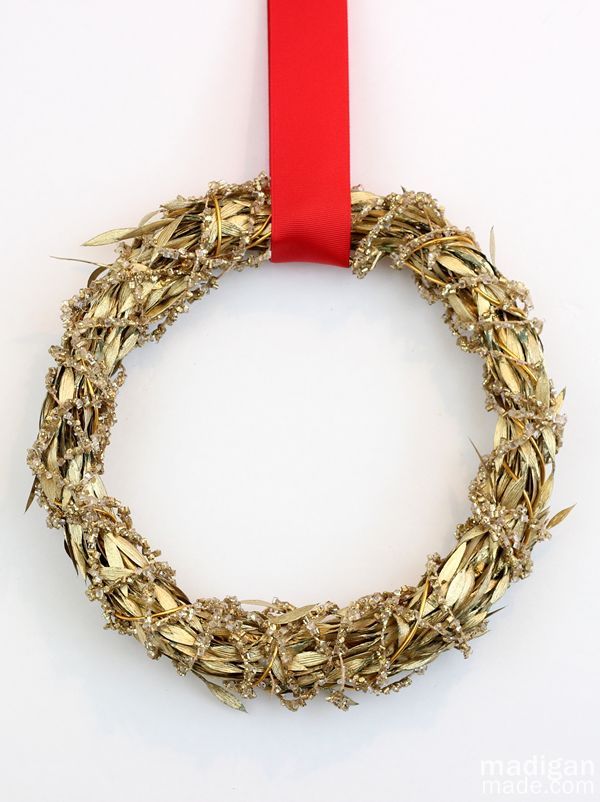 What do YOU do with your old holiday decorations that you don't use?
Me? Well, apparently I make wreaths!
This week has been all about simple wreaths that I made from old holiday décor. I wasn't really using the decorations… so why not repurpose them?! In three days, I wanted to show you the three easy wreaths that I made.
And today's wreath craft is the last one. (Did you see the fruit ornament wreath or the gilded pine cone wreath? Don't miss them!)
I'm a sucker for shiny and sparkly holiday décor. And I've been compelled to buy pretty gold garland whenever I saw it on after-Christmas clearance. In prior years, I bought a single strand of shaggy gold fibers that looked almost like feathers. And I've also had a bunch of frosted, gold strands in my holiday stash for years, too.
Both pieces of garland were pretty… but the feathery strands shed gold flecks of paint constantly. And the crystalized gold filament dropped glitter all the time. Plus, I did not have a large quantity of either type of garland to really make an impact in my décor… until I decided to combine their gildedness (it's a word) to create this pretty gold wreath.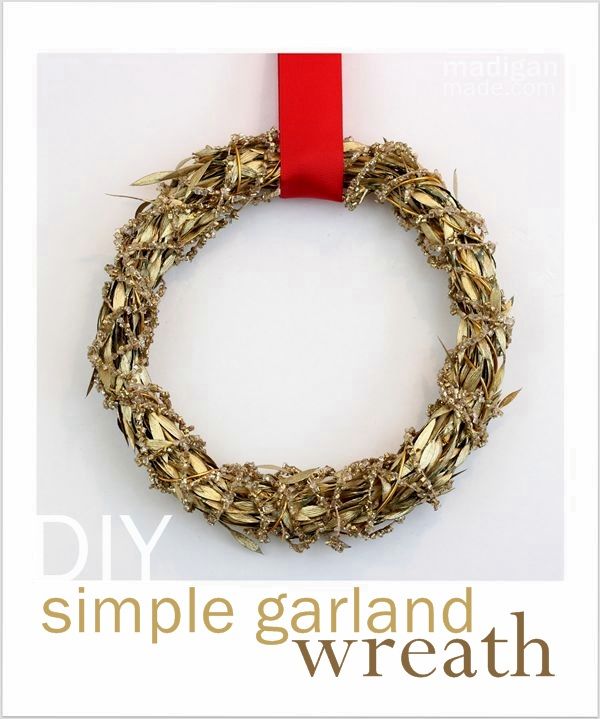 How to make an elegant wreath from gold garland:
Supplies used:
18 gauge wire
Gold colored Duck Tape ®
Various leftover gold garland and gold floral wire
Wire cutters and scissors
Gold string
Hot glue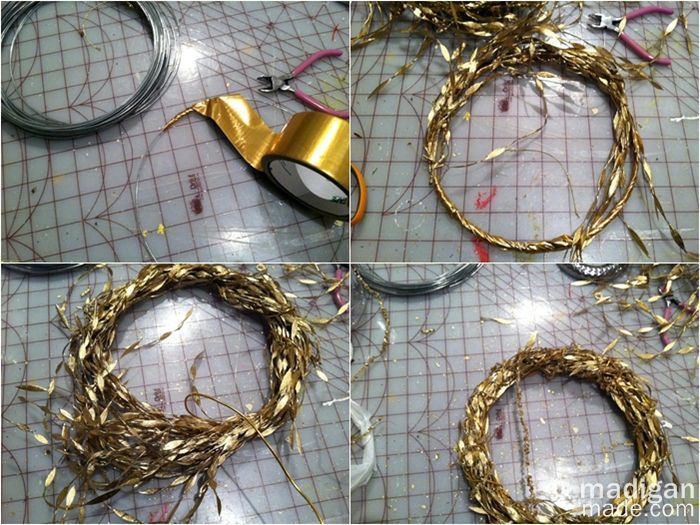 To make this wreath I did the following:
I cut a length of 18 gauge wire and shaped it into a circle. I used Duck Tape to hold the wire together and cover the entire circle.
Then, I cut up pieces of the hairy gold garland and started to tie them to the ring with the string. I worked my way around the circle until it was fully covered.
The string did not completely hold the loose ends of the garland in place, so I used some gold floral wire (I get mine from the dollar store) and wrapped the wire around the garland. This helped to reign in all the gold flyaway pieces.
Finally, I used the pretty, frosted and gold strands of garland that I wrapped around the wreath. I secured the garland down every now and then with hot glue.
I liked both strands of gold garland before… but I love seeing them together in this wreath. Combining both types of garland with the gold floral wire really helps give this otherwise simple gold wreath some dimension and sparkle. I just needed simple grosgrain ribbon to hang it… instant glam!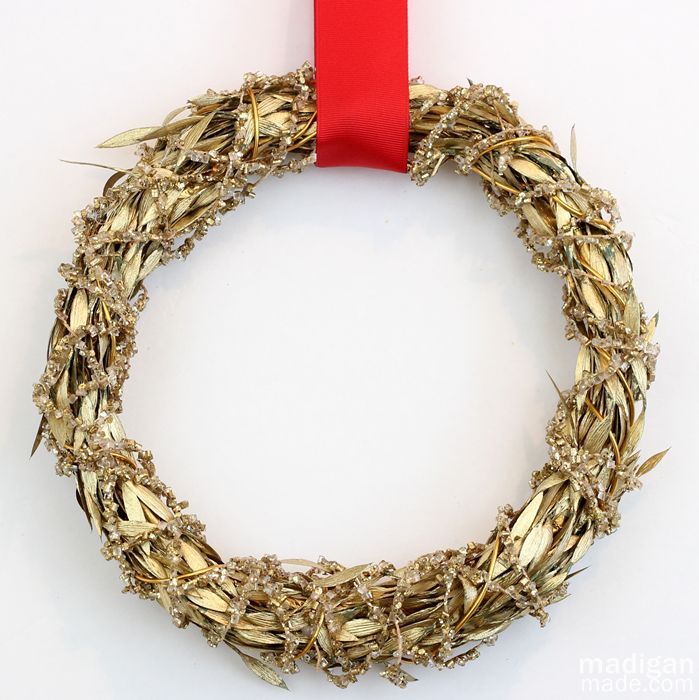 I hope this Three Day Wreath Series has inspired you to take a hard look at your old Christmas decorations. Maybe there is a simple holiday wreath just waiting to be made from that pile of sparkle and shine?!
P.S. For more repurposed wreath ideas, don't forget to go back and check out the other two wreaths from this week: the fruit ornament wreath and the gilded pine cone wreath.