Madigan made… easy ways to keep a party simple with Rubbermaid.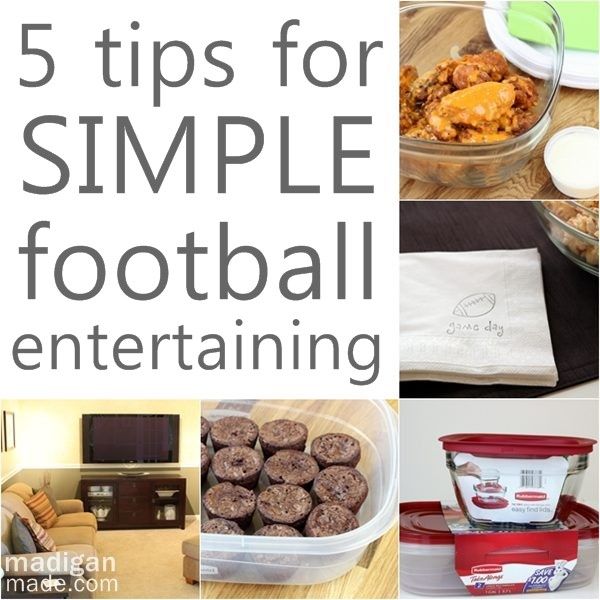 I've told you this before… but when it comes to entertaining, my husband and I like to keep things simple. We also love football in our home, too! (My hubby loves the game and I love the food that goes with it!) We get together occasionally with family to watch a game… and good, simple food is ALWAYS a priority.
Football season is coming to a close soon… with a big game on the horizon! I recently had the opportunity to go shopping at Target for some Rubbermaid products that will make football entertaining even easier. I picked up this big, glass Easy Find Lid container and some Take Alongs. I find that handy containers are helpful when you are entertaining or heading out to a party.
Here are the ways we try to entertain simply… (and how Rubbermaid helps!):
1. Focus on the reason.
The big game is what the party is all about, right? And that, of course, means the television is usually the focus. It is where everyone gathers and it should be important.
Our house is small and the current day-to-day set up of our TV room is not always conducive to a big group. So, when people come over to watch, we will rearrange the furniture in our family room so everyone can watch the game comfortably.
2. Keep the menu simple.
When we have people over to watch the game, I don't want to be in the kitchen all day making stuff. We typically just order food (wings, pizza, sandwiches, etc.) or I'll make a big pot of buffalo chicken soup or chili ahead of time to serve from a slow cooker. (I'll be sharing my chili recipe with you later this week!)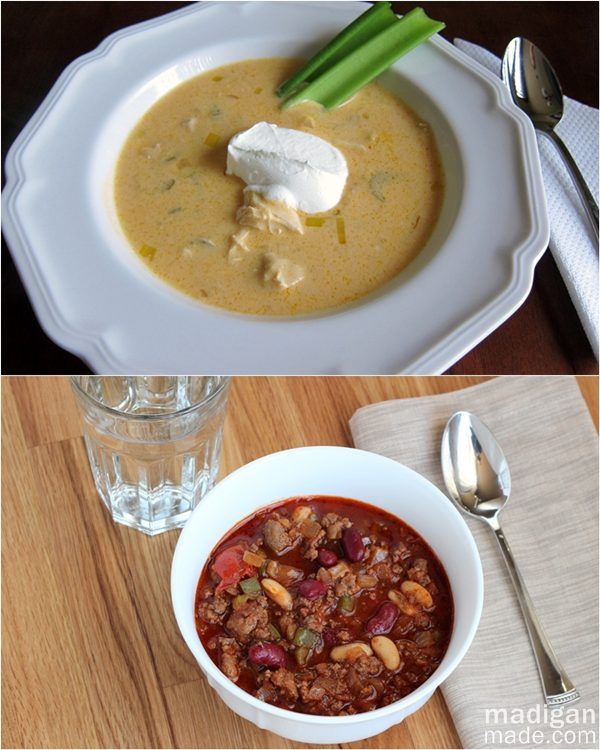 Aside from the main dish, the rest of the menu is simple… drinks, chips, pretzels and maybe a veggie tray or taco dip. (Oh, and dessert, of course!)
3. Serve it up in easy-to-use containers.
To keep things simple, I will try and make dishes and trays of food up ahead of time and pull them out when people arrive.
That's why I love the containers I picked up from Rubbermaid. I can have the food ready… then bring it out and open the lid for our guests. Plus, I love the fact that this Easy Find Lid container is made of glass (they make sturdy plastic ones, too). The glass elevates a simple storage container to something special. Even a big ol' pile of hot wings looks fancy in a glass bowl!
And if we have leftovers, it is simple enough to just pop on the lid on the container to store the food away securely. Plus, I love that the lid snaps to the bottom of the bowl making it easy to find later, too!
Rubbermaid containers are also great to use when we are heading out somewhere to watch the game. The tight lids and roomy containers make it easy to bring a tray of cookies or brownies over to a party.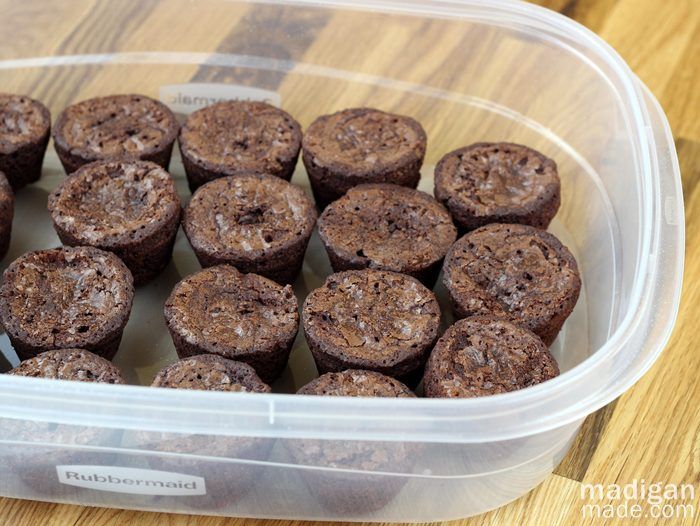 4. Keep the rest simple.
Confession: unless there is a seasonal or special occasion, I rarely decorate much for a party or get together. I know… what kinda craft blogger am I that doesn't decorate for a party? Well, we like to keep things simple for football. I don't make football centerpieces or football themed foods.
At the most, I might buy paper products in the team colors… or maybe I'll stamp a cute sentiment on napkins and use sports themed coasters. For us, football is not about the décor… it is all about the food and the game!
5. Send any extras home with people.
My husband and I often fear we won't have enough food for a party. As a result, we tend to order too much. We frequently have TONS of leftovers at the end of a party. Does that happen to you, too?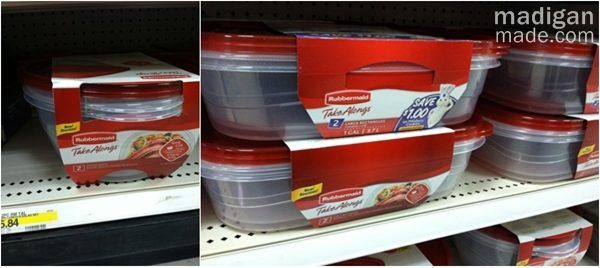 Well, because that happens so often, we keep a stack of small containers in the house and send leftover food home with people. Rubbermaid's Take Alongs come in handy for this purpose! They come in a bunch of sizes and are a great quality and value. I typically just tell our guests to keep the containers since they are inexpensive and easy to replace. Getting the extra food out of the house helps us with clean-up, too.
That's how we try to keep things simple for a party. What about you… do you have any easy tips for your football entertaining?
If you were interested in grabbing a few Rubbermaid containers before your next party, head over to Target's website and print off a Rubbermaid coupon to stock up!
Also, Rubbermaid is hosting a Game Day Party Sweepstakes. They are offering the chance to win an Easy Find Lids Party Pack, a 48Qt Cooler and $100 VISA gift card! To enter the sweepstakes readers must click here. Entries are limited to one entry per person / per email address / per day. Sweepstakes starts December 19, 2012 and ends January 21, 2013. And for more Rubbermaid entertaining ideas, follow them on Facebook, Twitter and Pinterest.
NOTE: This shop is part of a social shopper marketing insight campaign with Pollinate Media Group™, but all my opinions are my own. Find out more about what I disclose here.