Madigan made… an easy beaded necklace with ribbon.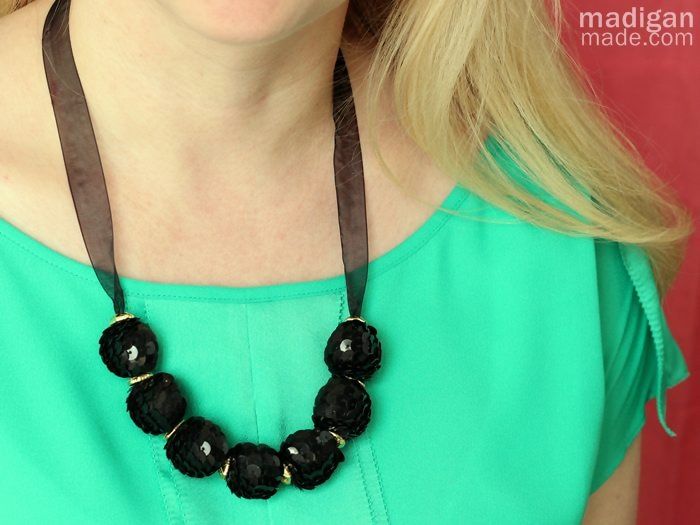 Aww. Simple Sparkle Week is almost over! This post is the last sparkle craft I have to share with you.
And today's project is awesome because of three little words: Oversized. Sequin. Beads.
Could YOU pass them up if you saw them on clearance at the craft store? Good. Glad I'm not the only one.
Oh, and remember those little ornament tops that I saved from the blue glittery wreath I just made? They turned out to be useful as bead caps or spacers for this simple necklace.
You do NOT need to be an expert in jewelry crafts to make this sparkly necklace… let me show you!
(And if you can't find sequined beads, just look for big, shiny or sparkly beads at the craft store to get a similar look.)
How to make a simple sequin and bead necklace:
Supplies used:
Large sequined beads
Sheer organza ribbon
Small ornament tops
Awl
Thin wire
Instructions:
Use an awl to poke a bigger hole through the tops of the ornaments. Bend the edges of the metal tops down to make the profile of the gold pieces smaller, too.
Thread the ribbon through the gold tops and the sequined beads by using a piece of wire (bent in half like a needle). Trim the ends and tie the ribbon around your neck to wear it.
This is a fun necklace! I feel like I'm wearing a little string of disco balls when I have it on.
I initially paired it with a mint green top and I really liked the contrast it created against the bright color.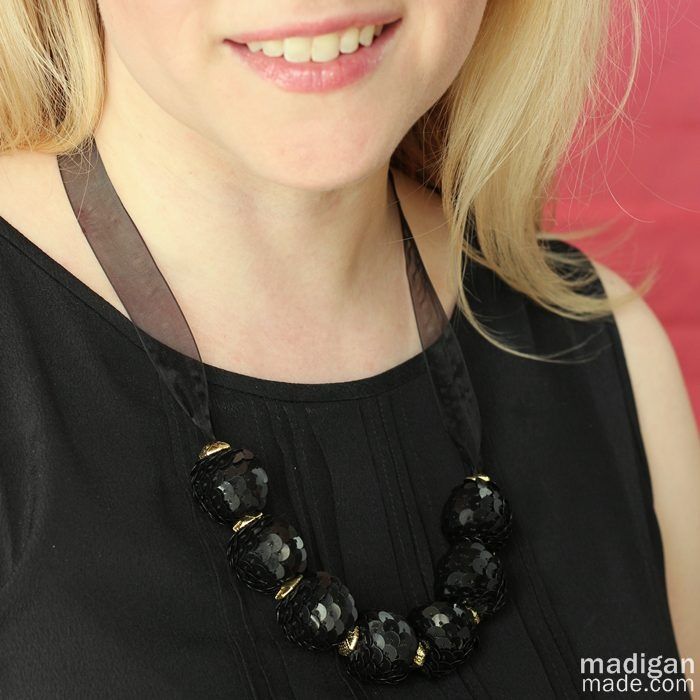 But, while I liked the mint and black together… I've told you before that I have a lot of black in my closet. Black is a staple in my wardrobe. So, I tried the necklace with a black top, too. I like it! The necklace does not "pop" as much as it does against the green… but I like the tone on tone texture.
Which do you prefer? A colored top or a black top with the necklace?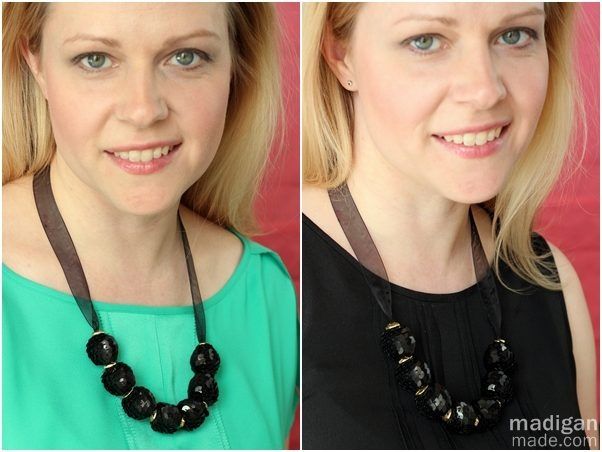 Either way… this is a sparkly statement necklace that is not to be ignored!
Want to see more glitter? Come back tomorrow! I'm showing off a bunch of other bloggers' sparkly projects! You won't want to miss it!
Can't wait for tomorrow? Check out my Simple Sparkle Pinboard that I started on Pinterest for more inspiration. And you can follow the hashtag #simplesparkle on Twitter and Google+ so you don't miss a thing this week!