Madigan made… a collection of easy-to-make wall décor.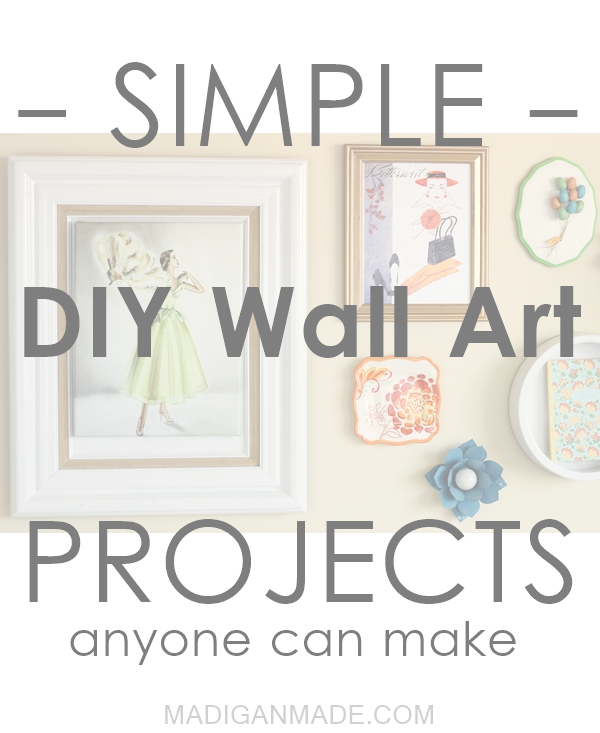 I have been a long-time advocate of personalized home décor. What I put on my walls is no exception.
I shy away from buying pre-framed, pre-made art from the local big-box décor stores. I don't want what everyone else has up in their home. Instead I try to make my home feel personal and different. How do I do that? Well, I do try to spot unique second-hand paintings at flea markets and thrift stores that would work in my home. But sometimes, I can't find what I need so I'll just make it myself. It works for me and it is fun. Plus, I love hanging something personal on my walls that I created. It means even more to us.
What are some ways you can make your own art? I am not an artist by any stretch of the imagination… but there are some simple approaches you can follow to create art (and it will not look like a grade-school craft project).
Try these easy ideas:
Frame your favorite fabric… in a frame or in an embroidery hoop.
Layer something small (like paper circles or wood shims) over and over again on a surface to create a piece that has lots of texture.
Grab a brush and go abstract with splatter paint or graphic lines of color.
Group a collection of something together on a wall (like plates) to make a statement.
Be bold with easy to draw stripes or chevron on a canvas.
Frame pages from your favorite book or cards from a childhood game.
Glue things to a frame (like tiny toys or little shells) to create specimen art.
Paint a favorite word or quote on a pallet.
Grab some big numbers or alphabet stencils and make your own typography inspired art. 
Do any of these ideas spark your creativity? Well, please check out my Simple DIY Wall Art Pinterest Board. You will find all of these ideas plus many, many, many more inspiring DIY art projects. There are OVER 200 simple and easy ideas in that board!
Be sure to follow along as I continue to spot and pin more simple ways to decorate your walls.
TGIF! Have a wonderful and crafty weekend my creative friends!