Madigan made... A fluffy feather and yarn door decoration.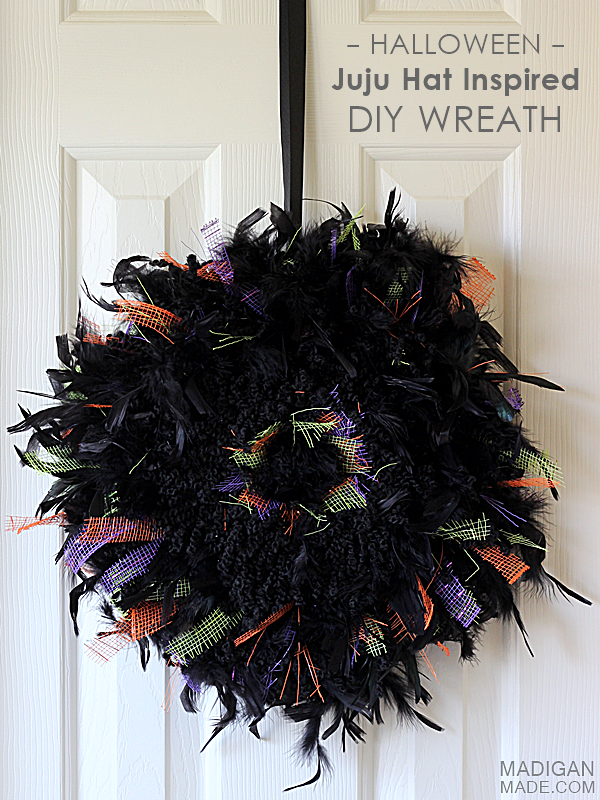 I'm not exactly sure what to call this DIY decoration. It is part feather boa wreath, part yarn pompom, part African juju hat… and it just screams "Halloween".
I don't have a place for one in our home right now, but I've always admired the texture and colors of juju hats. Something about their shape also reminded me a little of a feather wreath. Since I do not have a permanent place to hang a juju hat, I thought about making a seasonal decoration inspired by one of these feather hats. Halloween seemed to be the perfect holiday that warranted a black feather creation.
The folks at FloraCraft® Make It: Fun® Foam recently sent me some StyrofoamTM goodies and decorative mesh that were the perfect base for my wreath. Want to see how to make it?

DIY Juju Hat Inspired Halloween Door Decor
Supplies used:
Instructions:
Attach the two StyrofoamTM discs together using three connectors and some white glue between the foam. In hindsight, I probably could've used only one circle. (see my comments below)


Paint the foam using a water-based black craft paint. (Do not use oil based paints like spray paint… they will melt the StyrofoamTM)

Make 12  to 15 feather, yarn and mesh ribbon pins:
First, wrap yarn around several fingers about 20+ times. Slip another piece of yarn through that wind of yarn. Tie that strand tight and then use your scissors to cut the loops. You'll end up with a bunch of yarn strands tied in the middle.
Cut strips of the colored wire mesh. (You could also use colorful ribbon, yarn or feathers as a substitute, too.)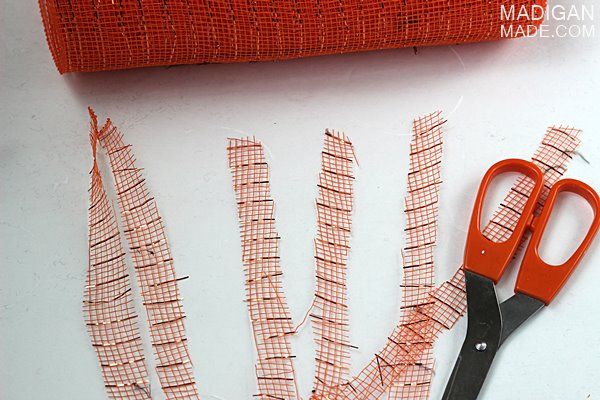 Carefully cut about a 2-3 inch length off of your feather boa. (There is a central string running through the boa. Use that as your guide.) Use either a floral pin or a piece of thick wire bent into a narrow "u" and create a pin. Layer the feathers, ribbon and yarn bundle into the center of the wire pin. Now you have one feather and yarn bundle.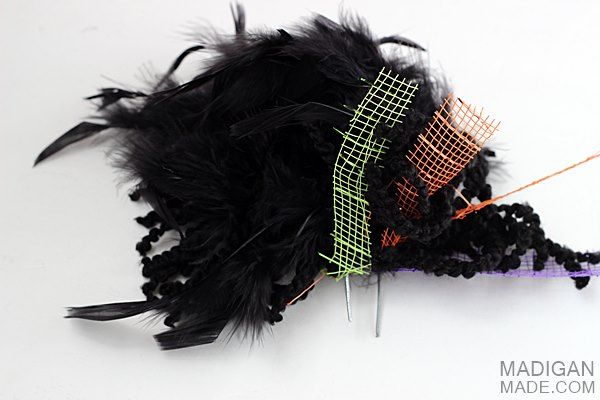 Repeat above to create about a dozen or more feather and yarn pin bundles.

Attach each pin to your wreath. Dip the ends of the wire in white glue and then press the decorative pin into the outside edge of the largest Styrofoam disc so that the yarn and feathers are held securely against the foam. Work your way around the edge of the circle with more bundles. Mix in the pre-made floral picks, if you have any.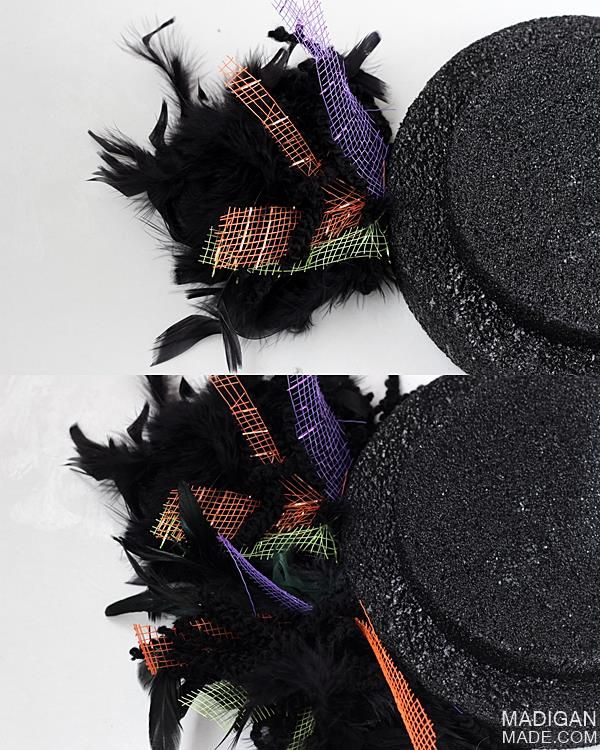 Once the entire perimeter is covered in feathers, move onto the next interior area on top of the foam circles. Attach a length of just the feather boa onto this area using floral picks or wire. Just wrap the boa around the edges and secure it down to the foam using the pins every few inches. Save any remaining length of the boa… we'll use that soon.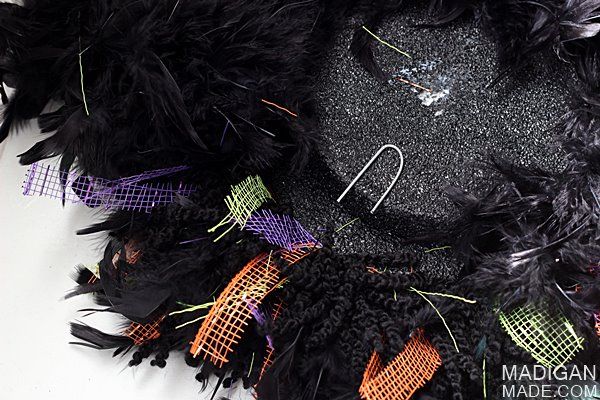 Make a bunch of smaller yarn-only bundles. Attach those in a concentric circle around the next interior space (the outer edge of the top Styrofoam disc) using more floral pins. Finally, attach a pin of just colorful mesh strips to the center. Then, secure the remaining leftover strip of feathers to the center, on top of the mesh ribbon with another wire pin.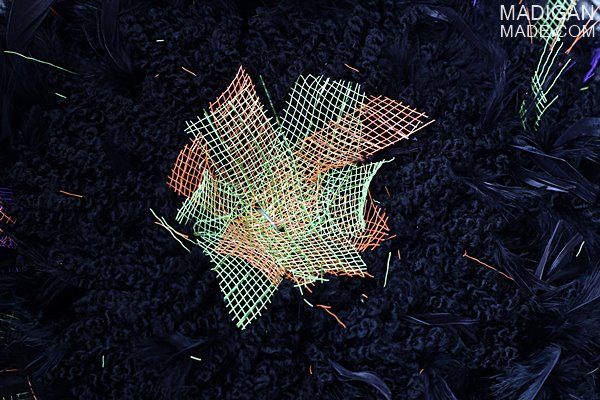 Cut out a circle of card stock and glue it down to the foam circle in the back. To hang your 'wreath', screw in an eyelet in the top of the foam towards the back and loop a ribbon through it. Hang it up and enjoy your new feathery wreath-juju-hat!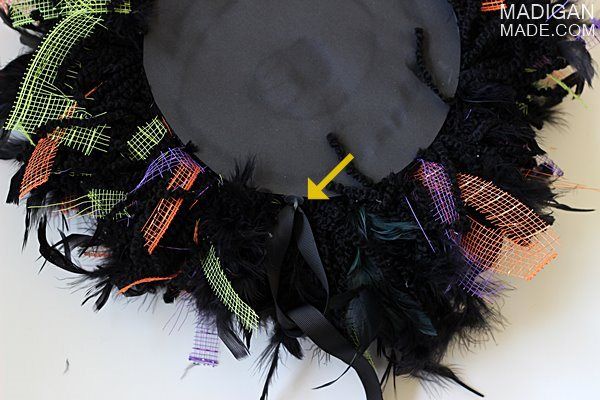 I love this wreath and there are a few things I learned as I made it. Below are some tips I would share with you if you wanted to make your own feather-yarn-pompom-juju-hat-wreath:
The shape of my feather creation is more convex than concave. When I looked more closely at pictures of real juju hats, most of them are slightly convex or flat. If you wanted your Halloween creation to be more 'flat', I'd suggest using only one circle of Styrofoam vs. stacking two on top of each other like I did. OR if you wanted something that looked more like a real juju hat, I'd suggest checking out these DIY tutorials at: Vintage Farm Furniture, Love Maegan and Flutter Flutter.
This decoration is obviously something that can only be hung inside. I will also warn you that it does shed a little. The decorative wire mesh did pull apart a little as I worked with it in such narrow strips. But I like the slightly feathery effect that added to the wreath's texture. If you did not want to use mesh ribbon, you could try colorful yarn, feathers or ribbon instead.
Feathers can be a little pricey to craft with for a large project. (And real juju hats cost hundreds of dollars!) Combining the yarn with the feathers made this wreath more economical to make. I only needed one feather boa and a few feather picks to make it… but it looks like I used many more feathers than that. If you did not want to make a black Halloween juju hat wreath, you could make this craft in other colors. The trick is to use a yarn color that closely matches your feathers so they blend together to create a full effect.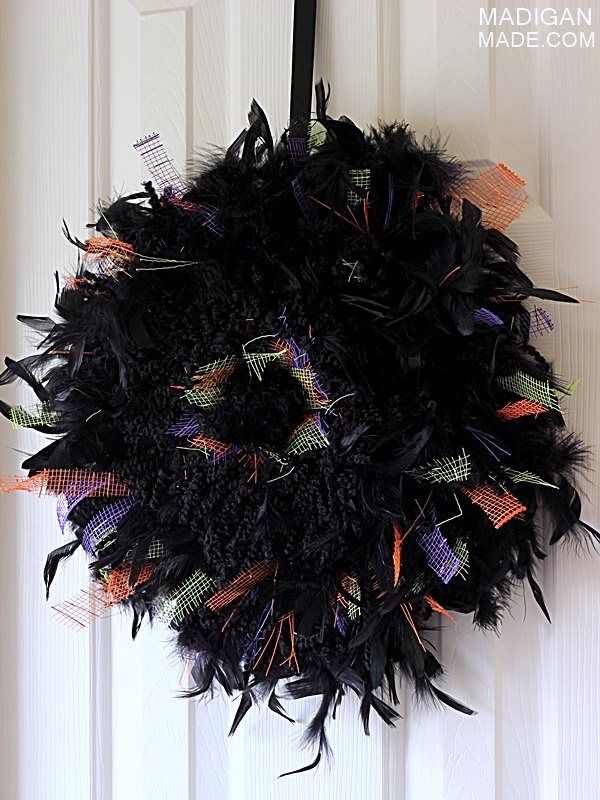 Juju hat? Wreath? Pompom? You can call this Halloween door decoration whatever you want… all I know is that I love it! It is a little spooky with a LOT of texture.  It is perfect for a Halloween home or party decoration.

For more information about crafting with FloraCraft® Make It: Fun® Foam, please also check out Crafts n' Coffee or follow the hashtag #MakeitFunCrafts.