Madigan made… super easy handmade birthday cards.
Y'all like simple, right? I thought so.
Homemade greeting cards do not need to be complicated or super fancy. I've shown you plenty of ways in the past to make easy handmade cards, but lately my favorite way to make them is with cute tape.
Tape has to be one of the simplest craft mediums… and creating a pretty card is super easy with it!
Want to learn how to make one? It hardly needs a tutorial… but I'll show you how I make mine.
Easy Homemade Greeting Cards with Cute Tape
Supplies needed:
Card stock, 8.5" x 11"
Washi tape, various colors/patterns
Scissors and/or paper cutter
Small greeting stamp
Stamp pad
Envelopes, invitation size
Instructions:
Cut your card stock in half to: 8.5"x 5.5". Fold that piece in half to create a small card.
Apply staggered stripes of different washi tape vertically down the front of the card. Leave the left lower corner 'open'. (I just ripped my tape edges for a homemade look… and then trimmed the tape cleanly with scissors along the top edge of the card.)
Stamp a small sentiment on the lower left corner.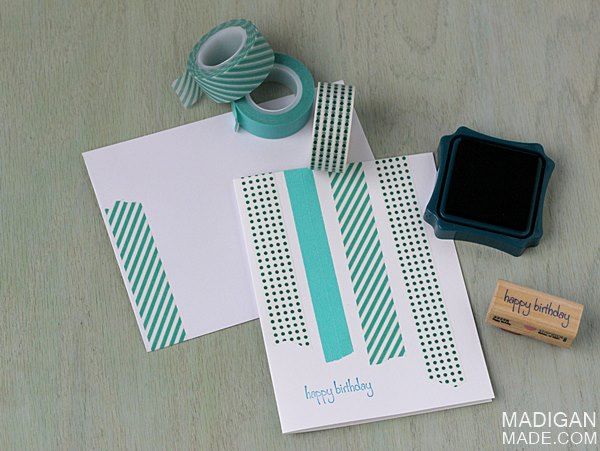 Don't forget to decorate your envelope with a little tape, too.
Fill out your card and send it to your favorite birthday girl or boy!

You could also use other stamps or saying for different occasions, too. (like a baby card)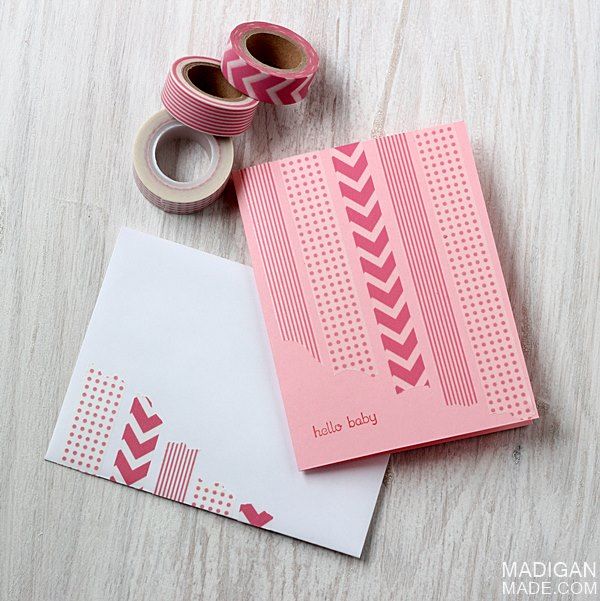 For this card below, I used my printer and printed a saying on the front and inside of the card instead of using a stamp.
The creative options for this type of homemade card are endless! You can mix and match your tapes to get so many different looks with your cards. And, unfortunately (or is it fortunately?), it gives me an excuse to keep collecting more cute tape!