Madigan made… a quick update to store-bought mum plants.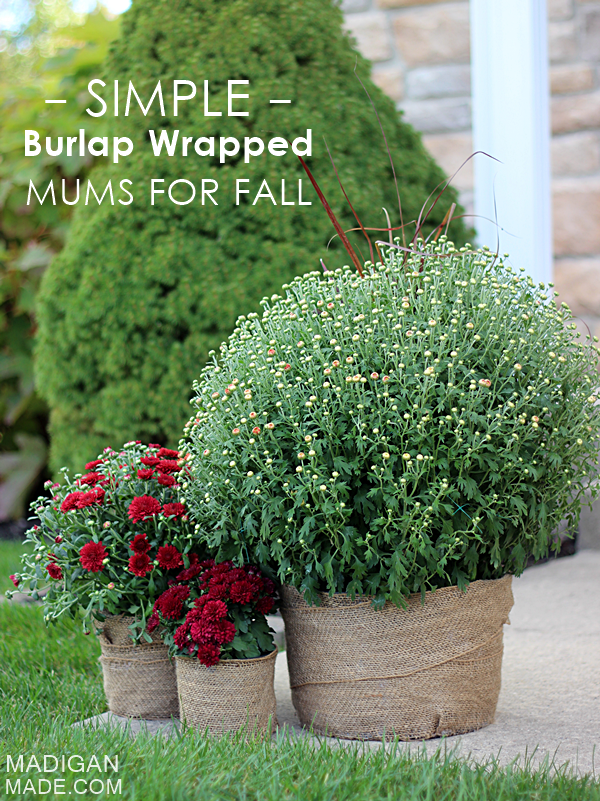 I know. There was a time I told you I was
not a "burlap girl"
. I've never been enthused by the trend. Something about the fabric's texture never felt refined or right to me. I just felt itchy looking at it.
I never bought the fabric… But my box of goodies from FloraCraft this past month (that I used for my juju
hat wreath
) included two rolls of their burlap ribbon. I eyed the rolls skeptically when I received them. The burlap was as itchy and rough as I thought it would be. The rolls sat with my other ribbon for a couple of weeks while I decided if I wanted to use them for anything.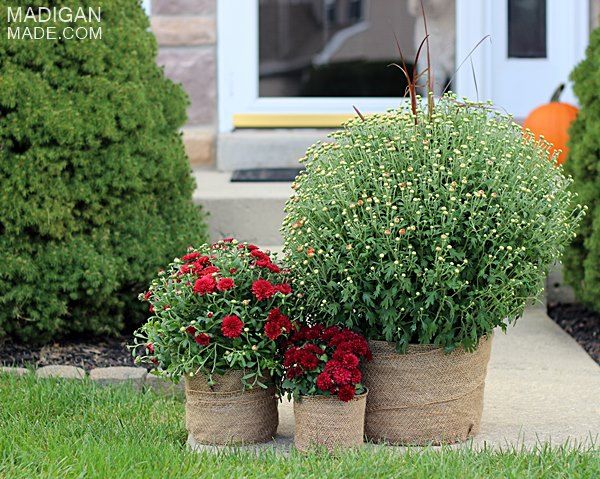 Then this past weekend I picked up some mums for our front porch. I considered repotting them mums but last spring I painted all my pots
cobalt
which did not exactly feel like fall to me.
I wanted a simple and easy (OK, lets admit it, a lazy) solution to cover the plastic pots without repotting them. And then I remembered that burlap ribbon... the itchy ribbon that was durable, easy to craft with and had a great natural texture to it that 'felt' like fall.
So, I grabbed my glue gun and some scissors and wrapped the pots with ribbon. I used hot glue every couple of inches as I wrapped the ribbon around the pots.
I figured that if I didn't like it effect, I could always repot the mums. But when I was done… I kinda liked it!
I like the texture the ribbon created around the bottom of the mums. It almost looks like the mums are sitting in little baskets.
Obviously, the bottoms of the pots are not covered and will leak when I water the mums… so these plants will be staying outside. It's been dry here this week in Pennsylvania so I left them out on our walkway for now. Burlap is a durable fabric, but I'm worried if it gets wet, the fabric could pull and sag. So, I'm probably going to move the mums up onto our porch and out of the rain by this weekend.
So, I'm warming up to the itchy-yet-textural-fabric that is burlap. I don't know if I'll use it too many other places but for the autumn season and in an outdoor setting… the burlap feels like it belongs.