Madigan made… an easy card with Mod Podge Rocks stencils.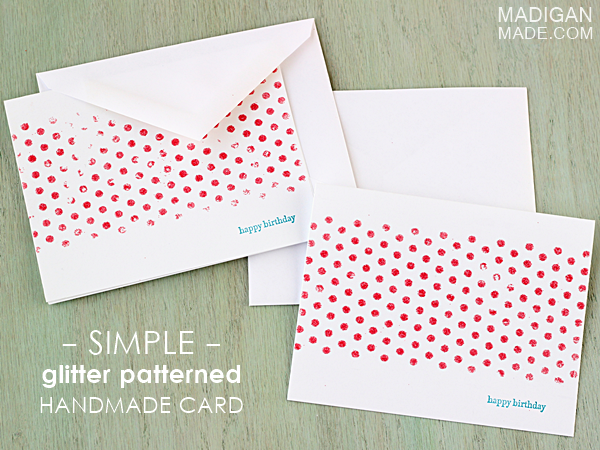 Let's talk today about two craft ideas I love: simple handmade cards and pink glitter. Sounds like a winning combination, doesn't it? (You know when there is glitter involved… it HAS to be good. Yes, I'm a little biased! Hahaha.)

My friend Amy Anderson from Mod Podge Rocks recently teamed up with Plaid Crafts to come out with a line of peel and stick decoupage stencils!  You use them with Mod Podge and glitter (or paint or markers) to create a pattern on object. Cool, right?

Plaid recently sent me a couple of Amy's stencils to try out. I thought decorating a handmade card with patterned glitter would be a simple and easy way to make a card. Let me show you how to make one.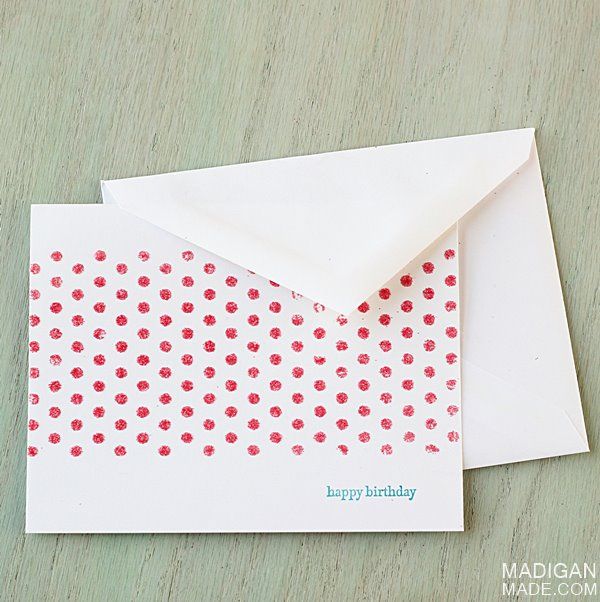 Easy glitter covered handmade card
Supplies needed:
Mod Podge
Mod Podge Rocks Peel & Stick Stencils
Glitter
Foam spouncers
Small saying stamp
Stamp pad
Paper cutter
White card stock, 8.5" x 11"
Invitation size envelopes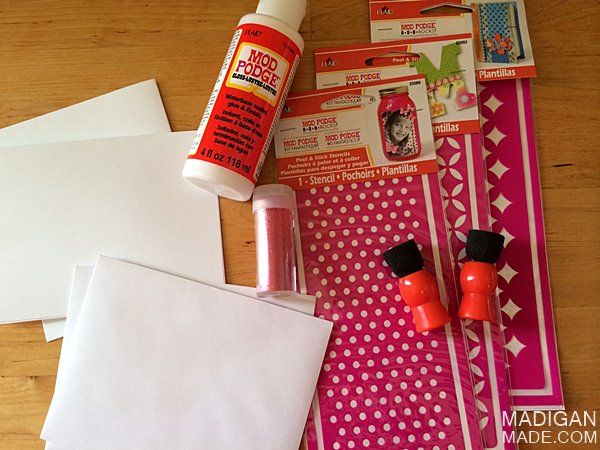 Instructions:
Cut your card stock down the middle and fold in half to make a small card.
Decorate the front of the card with glitter. Peel and adhere the stencil to the front of the card. Apply a liberal amount of decoupage over the stencil. Working quickly, remove the stencil and sprinkle with glitter. (Tip: You can see the difference between my two tries with the stencil - it is important to use enough glue and work fast so that you get an even pattern with the stencil and glitter.) Let the glue dry.  Don't forget to rinse the stencil with water, allow it to dry so you can reuse it again.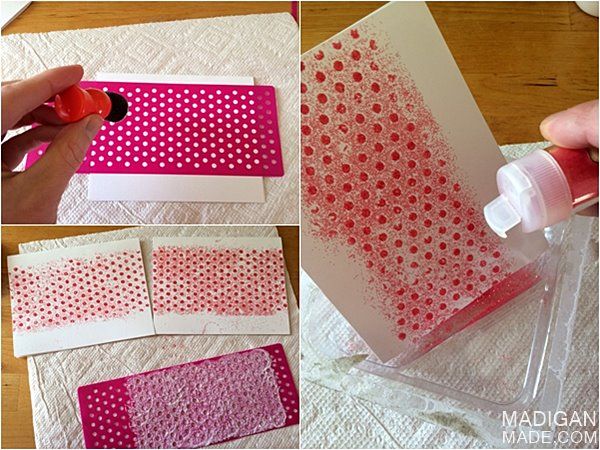 Remove any excess glitter with a duster or soft brush. If desired, you could coat the glitter with another application of decoupage or lightly spray it with a clear spray sealer. (I left mine alone and just dealt with the minor glitter shedding because I did not want to weigh the paper down any further.)
Stamp an appropriate saying or wish on the front of the card next to the glitter pattern. Use an invitation sized envelope to address and send the card.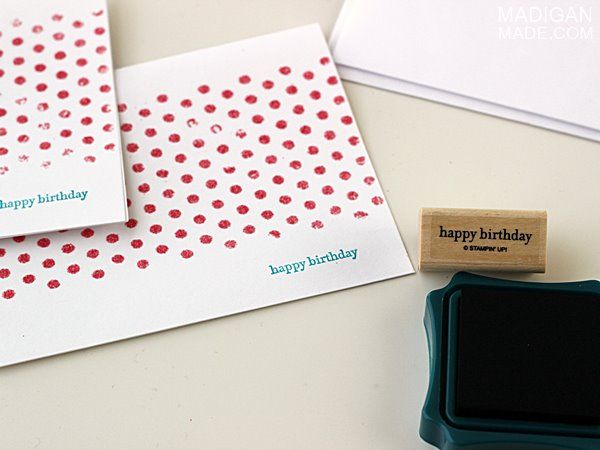 I love how this technique can give my stationary a little custom texture and sparkle. I even like how the one card has a 'faded' pattern with the glitter dots… it looks intentionally worn.
I can't wait to try the other stencil patterns on cards and other surfaces. If you were interested in learning more about these stencils, Amy shares a ton of information about the stencils on her blog. (You can find the product exclusively at Michaels.)
I'm excited because you don't have to use these stencil patterns just with decoupage and glitter, they will work with paint, too. But really… you can't go wrong with glitter, right?
Note: I was given a complimentary sample of this product for the purposes of review. All opinions, as always, are 100% my own.